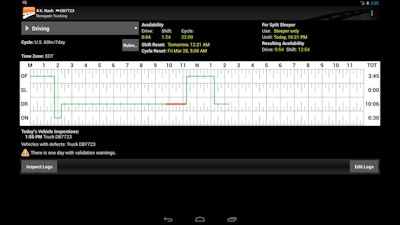 Farruggio's Express, a trucking company based in Bristol, Pa., has asked the Federal Motor Carrier Safety Administration to grant it an exemption from logbook-keeping requirements for its drivers who don't meet all conditions for using the 100 air-mile radius logbook exemption, citing detention time as its reason.
The exemption, if granted, would exempt Farruggio's drivers who stay within the 100 air-mile radius but occasionally exceed the 12-hour limitation from having to complete a daily record of duty status. The company says approximately 12 percent of its drivers exceed the 12-hour limitation on a weekly basis, primarily due to waiting times at rail yards and piers.
The company says its entire fleet of commercial trucks is equipped with GPS tracking devices, which it believes justifies the request for the exemption.
Farruggio's provides service to railroad ramps and maritime piers, according to the exemption request, in the eastern U.S. Its regional programs also included truckload and less-than-truckload service, as well as piggyback and container service. The company expects that all of its drivers, approximately 95 to 100, would operate under the terms of the exemption. The company says all of its drivers operate in a 50- to 60-mile radius of their home terminal.
Farruggio's said in its request that, if the exemption is granted, it will implement the following conditions on the use of the exemption:
Allow FMCSA and the state enforcement partners access to its data as both a monitoring and training tool. This would be provided to the agency and state partners by granting them access at any time through Farruggio's web portal or conducting an on-site compliance review of the carrier.
The company will maintain a "Satisfactory" safety rating.
The company's drivers will carry a copy of necessary exemption paperwork with them when operating their trucks.
Farruggio's will conduct a minimum of four safety meetings per year at each of its terminals.
Farruggio will continue its ongoing immediate notification and training for any of its drivers who exceeds a speed limit.
The company will continue its ongoing immediate notification and training for any drivers who exceeds the HOS limits.
FMCSA is seeking public comment on the exemption request, which can be made by searching Docket No. FMCSA-2015-0460 at www.regulations.gov after its published in the Federal Register on Friday, Feb. 12. The comment period will be open for 30 days once it's published.