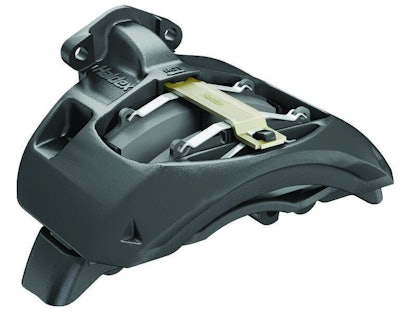 In response to the growing interest and demand for air disc brakes in the North American market, Haldex is bringing over its ModulT trailer air disc brake product from Europe, where it has 1 million ModulT air disc brakes in service since the product launched there in 2011.
Jeff Stokes, Haldex's global product manager, says benefits of air disc brakes include increased safety, shorter stopping distances, better braking comfort for the driver and reduced downtime.
Stokes notes that while the upfront costs associated with air disc brakes are higher than traiditonal drum brakes, "If you look at total life of the vehicle and service of that wheel end, disc brakes are the cheaper alternative," he said.
Haldex begins its air disc brake introduction with the 70-pound DBT22LT (22.5-inch) trailer brake, but plans to follow soon with the DBT19LT (19-inch) trailer brake and 19-and 22.5-inch tractor brakes.
The ModulT features a single-piston mechanism that achieves brake distribution comparable to a typical twin tappet brake mechanism while reducing weight and size.
The caliper slide function features composite trailing edge bushings and PFTE-coated leading edge bushings that are sealed for life, fully encapsulated and lubrication-free.
A boltless brake pad retainer allows a technician to change the pad in less than one minute with the wheel off with no tools required.
"The new ModulT we believe is the perfect solution for fleets looking for longer service life with lower total costs, higher efficiency and greater control and stability," says Stokes.