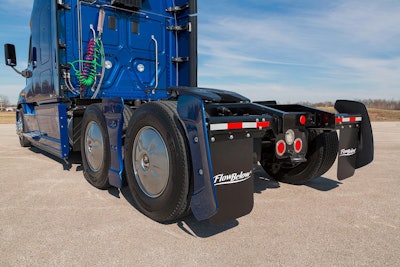 FlowBelow Aero Inc., and Daimler Trucks North America (DTNA), announced Sunday at the Technology & Maintenance Council (TMC) Annual Meeting in Nashville, Tenn., that DTNA will offer FlowBelow's fuel saving 'Quick-Release' wheel covers as an option on its most fuel efficient Freightliner Cascadia Evolution equipment package beginning in the first quarter of calendar year 2016.
According to FlowBelow, the Tractor Wheel Coves reduce aerodynamic turbulence and drag on the truck by streamlining airflow over the tractor's drive wheels. When optioned, each 6×2 or 6×4 truck is outfitted with Quick-Release wheel covers, which provide instantaneous and tool-free access to the wheel end via FlowBelow's patented 'push and turn' quick-release latching system. The FlowBelow wheel covers are made in the USA using extremely durable and flexible thermoplastic polyolefin (TPO) material commonly used in automotive applications, the company says.
"Daimler Trucks North America continues to lead the industry with the most technologically advanced, fuel efficient trucks available," says Josh Butler, founder and CEO of FlowBelow Aero. "With the option to include the FlowBelow Quick-Release Wheel Covers to the Cascadia Evolution truck, we are providing increased value while also laying the groundwork for further aerodynamic enhancements."
As part of the supplier agreement, FlowBelow products will be offered on all new Cascadia Evolution trucks built at Daimler's truck plants, as well as made available for aftermarket purchase and installation through all Freightliner dealers in North America.
C.R. England also joins up
FlowBelow also announced Sunday that C.R. England will equip 200 new Western Star 5700 XE tractors with FlowBelow's complete fuel saving Tractor AeroKit system.
"We are always looking for opportunities to improve the safety and efficiency of our fleet and reward our drivers for their hard work and dedication," says Ron Hall, vice president of Equipment and Fuel at C.R. England. "These top of the line Western Star trucks offer best-in-class safety and aerodynamic features such as adaptive cruise, forward collision mitigation, hill-start technologies and the FlowBelow Tractor AeroKit."