CCJ's Indicators rounds up the latest reports on trucking business indicators on rates, freight, equipment, the economy and more.
---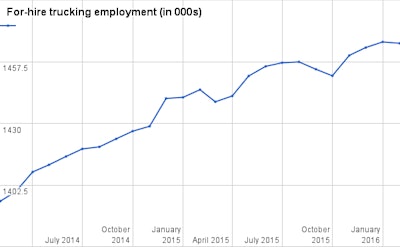 Trucking drops 600 jobs in February: Total trucking industry employment fell by 600 jobs in February, according to the Department of Labor's monthly Employment Situation Report. That's the first drop in industry employment since October, ending a quarter-long streak of consecutive increases.
For-hire trucking industry employment totalled 1.4657 million jobs in the month, per the DOL report. January's employment number, however, was upwardly revised from the preliminary numbers reported a month ago.
The U.S. economy as a whole added nearly 250,000 jobs, and the country's unemployment rate held at 4.9 percent.
According to the report, U.S. manufacturers in the month dropped 16,000 jobs, while the construction industry added 19,000 jobs.
---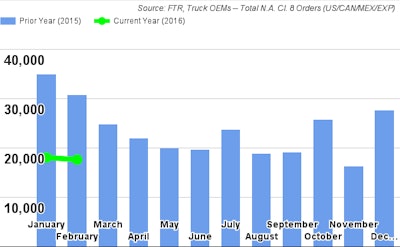 Truck orders flat in February: The number of Class 8 net truck orders in February held at 17,650, according to preliminary data reported this week by FTR. That's a 2 percent drop from January, but a whopping 43 percent drop from last February — the tailend of a very strong run of truck orders.
"The order patterns are very consistent with the current market situation," says FTR's Don Ake. "Fleets are basically finished expanding their truck capacity for this cycle. Purchases are now for replacement demand and the average orders and expected build are right at this level."
Ake says, however, that the Class 8 market should remain stable in the coming months. "Despite recent downturn in Class 8 demand, February backlogs are still expected to be 14 percent higher than two years ago," he added.