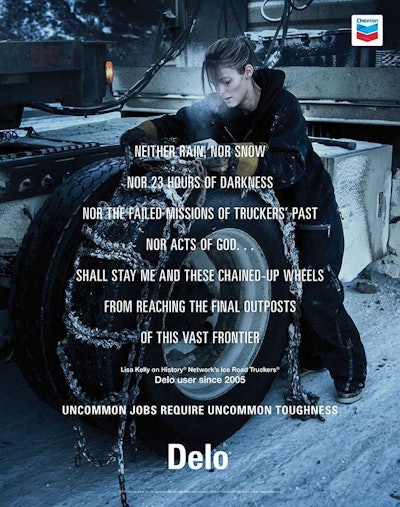 Lisa Kelly, star of the Histroy Channel's Ice Road Truckers series, has joined Chevron's "Reality of Delo" campaign, a modern take on testimonials intended to influence heavy duty diesel equipment users about the benefits of Delo heavy duty motor oil (HDMO).
Kelly, a career truck driver, says she is a long time Delo user.
"I have relied on Delo since I began my career in trucking," she says. "I drive some of the deadliest roads in the world. I can't take chances on oils. I need to know I've got the most durable, reliable and toughest lubricants in my truck. An oil that I can count on to protect my truck even in the harshest conditions. Up on the ice roads, Delo is just what we use."
Inspired by the Postman's Creed, Chevron says the series includes testimonials from a number of better known Delo users underlining their relentless commitment and reliability. Lisa joins Mike Papac from History's AxMen, Freddie Dodge from Discovery Channel's Gold Rush, Edgar Hansen from Discovery Channel's Deadliest Catch, and Dale Kitchens from the Edge of Farming, a web-based reality series.
"We've seen a significant increase in awareness and more importantly engagement with the Delo brand since the introduction of the Reality of Delo campaign, and as soon as we heard Lisa Kelly was a long time Delo user, we couldn't wait to bring her onto the team," says Rommel Atienza, brand manager North America commercial brands with Chevron Products Company, a division of Chevron U.S.A. Inc. "Lisa joins a great list of Delo advocates."
Shooting for the new "Reality of Delo" commercials has begun and the new marketing campaign will kick-off later this month on a variety online media properties. Kelly's testimonial will be added to the other "Reality of Delo" participants.