CCJ's Indicators rounds up the latest reports on trucking business indicators on rates, freight, equipment, the economy and more.
---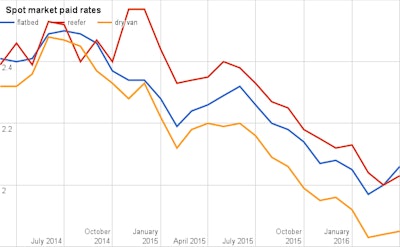 Truckload segments post spot rate gains amid major downswing: For the first time since last April, per-mile spot market rates for all three major truckload segments rose, according to monthly rate data from Truckstop.com. .
The upswings are bright spots in an abysmal showing since last spring, with all three segments posting rate declines nearly each month since peaking last June.
Not surprising for the season, flatbed posted the largest month to month gain. Paid rates, verified averages of rates paid by brokers to carriers, in the segment rose 6 cents from March to $2.06 a mile, according to Truckstop.com data. However, April's flatbed average was 20 cents lower than the same month last year. It was the just the second monthly increase since last June, though, and the first in 2016.
Paid reefer rates, meanwhile, rose 3 cents from March to $2.03 a mile. That's 32 cents lower than last April.
Van rates in the month rose a penny to $1.85 a mile, according to Truckstop.com. That's 35 cents lower than last April. However, like flatbed, van's seen a steady decline since last June, with April's increase being just the third increase since then. All three month to month gains in the segment were just a penny each.
---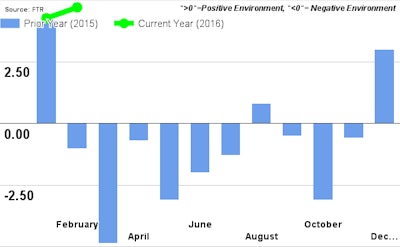 Conditions for shippers positive in February; decline expected: Market conditions for shippers, as measured by FTR's monthly Shippers Conditions Index, grew more favorable in February for the fourth straight month.
As trucking capacity as loosened, so has the pressure on labor and shipping costs, FTR says, which has driven the index's more positive reading.
However, a "softening in the freight economy" expected later this year will put downward pressure on the index, FTR says. And in the coming two years, capacity will likely tighten due to regulatory burdens on carriers, which will force rates up and also put downward pressure on the index, FTR says.