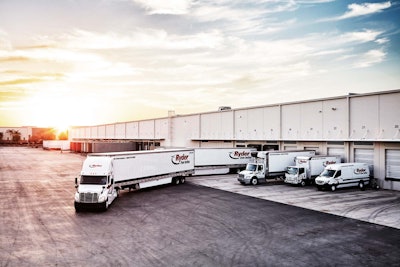 Ryder System, Inc. Monday announced the launch of two new commercial vehicle lease products, allowing customers interested in leasing to choose from three different, flexible "Ryder ChoiceLease" maintenance options: Full Service, Preventive, and On-Demand.
This scalable model enables customers to decide the terms of their lease alongside the level of maintenance they prefer, from total bumper-to-bumper coverage to pay-as-you-go maintenance, accessed only when and where they need it.
"Our Full Service Lease customers recognize the value that comes from our fully comprehensive leasing and maintenance offering," says Ryder Chairman and CEO Robert Sanchez. "However, recent market research and conversations with private fleet owners and other prospects that are new to outsourcing have shown that there is strong interest in having options. The new Ryder ChoiceLease products provide agility and customization for businesses that want more control when it comes to their fleets. We're listening to the marketplace, and offering customers the unique opportunity to do business with Ryder on their terms.
Ryder ChoiceLease Full Service is the company's traditional full service lease with all maintenance included. Ryder ChoiceLease Preventive allows customers to enjoy the financial benefits of a Ryder lease with preventive maintenance on new and used vehicles, enabling them to choose how and where to handle their other repairs or maintenance outside of preventive checks.
Ryder ChoiceLease On-Demand provides customers with the financial benefits of leasing, combined with access to Ryder's national maintenance network on a pay-as-you-go basis. The offering is only available on new and used trailers, as well as used power equipment.