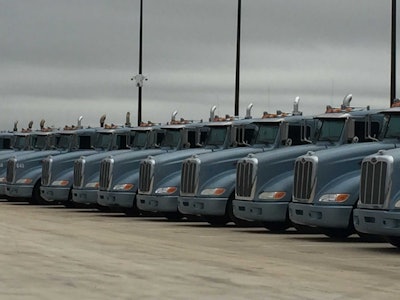 Legislation currently sitting in the U.S. Senate opposing any increase to the federal excise tax (FET) on new heavy-duty trucks drew the applause of American Truck Dealers Chairman Steve Parker Wednesday.
Sen. Cory Gardner (R-Colo.) introduced S.Con.Res. 40, putting the Senate on record opposing an increase of the FET, which at 12 percent is already highest tax by percentage levied by Congress on any product.
Companion legislation, H.Con.Res. 33, was introduced in the House by Reps. Reid Ribble (R-Wisc.) and Tim Walz (D-Minn.) last year and has 30 bipartisan cosponsors.
"The existing 12-percent FET on heavy-duty trucks, which adds nearly $20,000 to the cost of a new truck, is already a severe detriment to businesses looking to replace aging fleets with newer, safer and more fuel-efficient vehicles," says Parker, who is also the president of Baltimore Potomac Truck Centers. "An increase in the FET would only further deter these important investments – investments that help keep our roads safer."
The FET was originally imposed to help defray the cost of World War I. Since 1955, the excise tax rate on new heavy-duty trucks, tractors and trailers has increased by 300 percent, ballooning from 3 percent to its current rate of 12 percent.
All of the heavy-duty trucks sold in the U.S. in 2015 were manufactured in North America, and Parker says any increase in the FET would depress new heavy-duty truck sales to the direct detriment of the American trucking industry and their more than 8 million U.S. employees.
S.Con.Res. 40/H.Con.Res. 33 has garnered the support of American Highway Users Alliance; American Truck Dealers; Daimler Trucks North America; Mack Trucks, Inc.; Meritor WABCO; NAFA Fleet Management Association; National Trailer Dealers Association; Navistar, NTEA – The Association for the Work Truck Industry; Owner Operator Independent Drivers Association; Recreation Vehicle Industry Association; Truck & Engine Manufacturers Association; Truck Renting and Leasing Association; Truck Trailer Manufacturers Association; and Volvo Trucks North America.