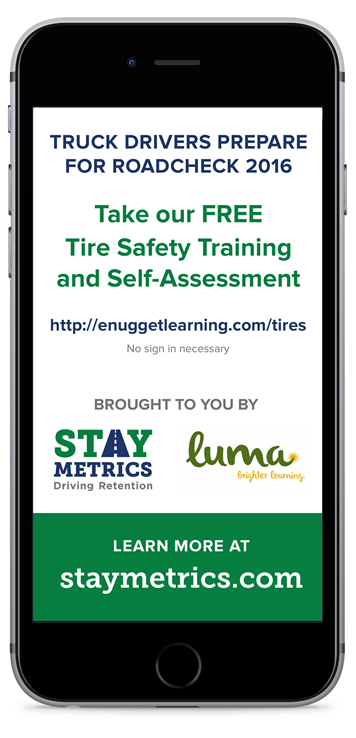 Stay Metrics, an expert in driver engagement and retention, in partnership with Luma, an expert in specialized driver learning experiences, is providing a free online Tire Safety training module in advance of International Roadcheck 2016.
The complimentary training and assessment will be available the entire month of June at https://enuggetlearning.com/tires. All drivers can take the module, which is optimized for delivery on any tablet or desktop or mobile device. No login or registration is required.
The module, or e-Nugget, combines Stay Metrics' trucking industry knowledge with Luma's instructional design experience.
By completing the module, the companies say drivers, fleet managers and others will gain useful tips and guidance to prepare for the annual inspection blitz conducted by the Commercial Vehicle Safety Alliance in partnership with the Federal Motor Carrier Safety Administration.
The International Roadcheck 2016 event will take place June 7-9. During this time, federal and state CVSA-certified officers will triple the number of truck inspections that they would normally conduct in a 72-hour period.
For Roadcheck 2016, special emphasis will be given to a single violation category: tire safety. The complimentary module offers a short, interactive learning experience and assessment tool focused on the four areas of tire safety that inspection officers will be targeting.
"The Stay Metrics and Luma teams support safety efforts within the trucking industry. We collaborated on this project to bring a quick and effective training e-Nugget to the field," says Tim Hindes, chief executive officer of Stay Metrics. "We encourage drivers, motor carriers and trucking industry stakeholders to widely share this training during the week leading up to the CVSA Roadcheck event."
In 2015, Stay Metrics partnered with Luma to develop a monthly series of driver Safety and Health & Wellness training modules. The rollout began last fall, and the growing collection of modules in the Drive Safe training program are an integral part of the online driver rewards, engagement and analytics platform Stay Metrics administers for motor carriers.
Drivers consistently give high ratings to the e-Nuggets, with many reporting they enjoy this safety training.