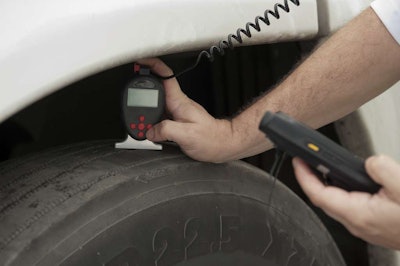 The Commercial Vehicle Safety Alliance's annual Roadcheck inspection blitz, which will be held next week, will focus on tires this year. With that in mind, CCJ compiled a list of the top 10 states for tire violations from Rig Dig Business Intelligence, which you can see below.
Roadcheck, while keying in on a specific area of focus each year, still by and large consists of full Level I inspections. CVSA says about 75,000 inspections are performed during the three-day period each year.
The chart below details the top 10 toughest states for tire violations. Percentages in the interactive chart indicate the number of tire (orange bars) violations and maintenance (purple) violations as a share of each state's total violations.
Top 10 toughest states for tire violations (maintenance violation percentage overall in purple)
This year's Roadcheck will be held nationwide June 7-9.