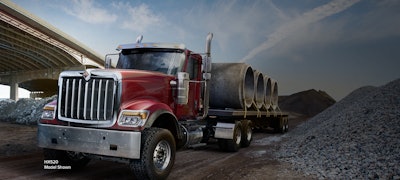 For the first time since Navistar President and Chief Executive Officer Troy Clarke launched his plan to return the embattled company to profitability more than 36 months months ago, Navistar International Corporation announced Monday a positive quarterly net income – the company's first profitable quarter since the third quarter of 2012.
The $4 million the company reported Monday morning is up considerably from the $64 million net loss posted the same time last year.
"Our performance this quarter begins to demonstrate the earnings potential of this company," says Clarke. "The fact that we earned a profit despite lower Class 8 truck volumes that impacted the entire industry underscores the tremendous progress we continue to make in managing our costs effectively and improving our operations."
Revenues in the quarter slid to $2.2 billion, down 18 percent, compared to $2.7 billion in the second quarter last year on lower truck sales in the U.S. and Canadian markets, softer industry conditions and the discontinuation of the company's Blue Diamond Truck (BDT) joint venture in mid-2015.
Second quarter 2016 EBITDA was $135 million, compared to second quarter 2015 EBITDA of $85 million. This year's second quarter results included $52 million in adjustments, including $46 million to pre-existing warranty reserves. As a result, second quarter adjusted EBITDA was $187 million, up 83 percent, compared to adjusted EBITDA of $102 million in the comparable period last year.
For the second half of 2016, Navistar lowered its sales forecast range by 20,000 units, blaming a weak market for Class 8 trucks. The company reduced its full-year revenue and adjusted EBITDA guidance.
"While we were net income positive in the second quarter, it will now be difficult for us to be profitable for the entire year given the tougher than anticipated market conditions, primarily due to the lower outlook for Class 8 industry volumes," Clarke adds. "We are confident we will generate and implement additional performance improvements to partially offset current industry conditions."
Clarke says the company has already secured 70 percent of its anticipated HX Series truck orders for this year, although truck segment net sales fell 25 percent to $1.5 billion in second quarter 2016 compared to second quarter 2015. Truck chargeouts (15,800 units) in core markets dropped 15 percent year-over-year. Also, second quarter 2015 revenues included $122 million in Ford sales through the BDT joint venture, which ended May 1, 2015.
The truck segment loss narrowed to $23 million in second quarter 2016 versus a second quarter 2015 loss of $51 million, driven by lower structural cost, improved mix, lower accelerated depreciation charges and other income, which were partially offset by higher year-over-year adjustments to pre-existing warranties and an increase in used truck reserves.
Navistar's parts segment second quarter 2016 net sales were $647 million, up $34 million, or six percent, compared to second quarter 2015, driven by enhanced retail programs in the U.S. market. The parts segment recorded record quarterly profit of $176 million in second quarter 2016, up 32 percent versus the same period one year ago.