Editor's note: This is the fourth part in a four part series. Click here to see the other three parts of the series.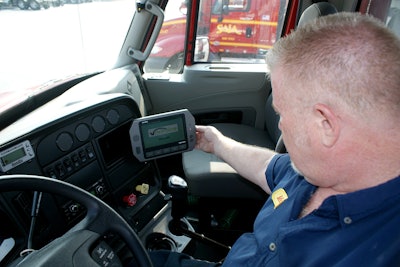 Beyond the powertrain, trucks have developed the capability to make some of the more menial decisions for the driver. For example, Hillman says Navistar's Diamond Logic electrical system can be programed to turn on the headlamps automatically when the windshield wipers are activated.
"Customers will rely more on telematics for route planning, to diagnose problems and to make service decisions," Aufdemberg adds.
Baney says drivers are increasingly looking for instantaneous feedback about the truck's operation.
"In the work zone, the driver needs to concentrate on the status of the payload, PTO, dump bed, and what's happening around the truck," he says. "The idea is to [provide] the driver the right information at the right time for enhanced productivity."
"It's an improvement of the human/machine interface," Hillman adds. "It's the way drivers work with the equipment to improve their productivity."
Cook says a good example of how technology has evolved and is proving to be indispensable is truck telematics.
"It is making a significant impact on fleet uptime and maintenance management," he says, "and its importance will continue to increase as the technology evolves with more functionality and further integration of more truck systems."
Baney says technology has also made the spec'ing and body building process more efficient. A generation ago the spec'ing process involved paper schematics and body-builder manuals couriered back and forth. Today, application engineers at the truck OEM work closely with the body builder to ensure that the chassis and body come together as expected.
"We're sharing 3D CAD models that show crossmember locations, PTO locations and clearances, special frame drilling patterns, and other air, electrical, and emissions equipment on the frame," he says. "We can help the customer visualize what their truck is going to look like right down to a fine level of detail before anyone drills the first hole."
Not to be underestimated in the change of spec'ing preferences is the information superhighway.
Lo Priore says, thanks to the internet, there's more information available than ever before and that it's so easy to find has put the customers in the driver's seat when it comes to getting what they want.
"Back in the day, you weren't able to reach out to these people efficiently," he says. "With technology the way it is, you can actually al a carte these trucks. Now, you have so many more tools to spec out a truck."
Aufdemberg adds today's vocational customer is also more in tune with how their business operates and is increasingly concerned how a truck will help their bottom line versus simply having the biggest truck on the jobsite.
"They are considering the real cost of ownership over the lifetime of their vehicles, and are thinking more holistically about the purchase and value-added specs," she says. "While the point of sale relationship is still important, customers today also have a higher level of expectation when it comes to parts and service."
"Fleets are starting to recognize the investment in safety technology. It's got a lot of value for their bottom line," Hillman adds. "[Customers] really have a handle on their revenues and their costs, and there is an appetite for approaches that enable them to be better."