CCJ's Indicators rounds up the latest reports on trucking business indicators on rates, freight, equipment, the economy and more.
---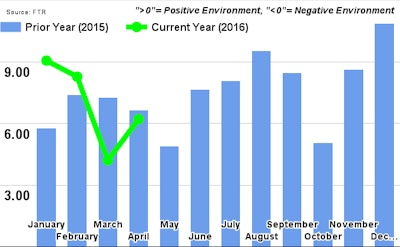 Latest on 'trucking conditions': Market conditions for trucking companies continue to reflect an overall weakness, according to the latest Trucking Conditions Index from FTR. April's reading, though up from March's, still signals the trucking market "is mired in a slowdown," according to FTR, brought on by poor freight growth and excessive capacity.
FTR's Jonathan Starks, the company's Chief Operating Officer, said the spot market reflects such conditions, with rates continuing to fall. Contract rates are also starting to see a downward trajectory, he says. "There is enough uncertainty swirling around the trucking markets right now to force a manager or business owner to keep the antacids handy," Starks said.
"Luckily, not all of the news is bad. The driver shortage is no longer the immediate concern it once was, and the economy continues to trudge along. I am watching inventory right now because of its quick impact on freight demand. Inventory levels are at highs that we haven't seen outside of a recession since the turn of the 21st century. Does that mean we are heading into a recession? Perhaps, but not definitively. The other conclusion is that higher inventory is the new norm, and it's just going to take some time for supply chains to optimize their inventories."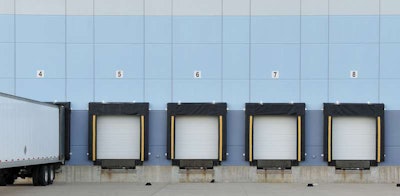 More on inventories — and their impact on freight — from ATA: ATA's Chief Economist, Bob Costello, this week gave an economic update via webinar to ATA members, trucking industry suppliers and the media, and high retail inventories were a key point of concern relative to the trucking economy.
Costello's harped on high inventory levels for some time, saying it's throttling freight growth and, effectively, stymying rates.
Costello said the high inventory levels seen now come in response to the 2014's brush with a capacity crisis, when spot market rates soared to record highs. Mid-2014 spurred shippers to seek higher inventories as a means to ward off future trucking capacity concerns that could cause rates to spike again.
"Trucking feels worse than the macroeconomy because inventories are so high," Costello said.
Consumer spending will be the "bright spot" of the U.S. economy in the near future, Costello predicted, which could help pull trucking over the high-inventory hump.