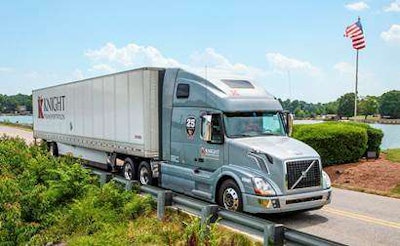 SmartDrive Systems announced that Knight Transportation, one of North America's largest truckload transportation companies, is deploying SmartDrive's video-based safety program across its fleet.
According to the announcement from SmartDrive, Knight undertook an extensive head-to-head evaluation of video safety programs after experiencing a sustained increase in litigation activity involving its fleet, much of which was fraudulent and costing the company time and money.
Many of its drivers had purchased and installed their own "crash recorders" to exonerate them when not at fault in a collision. Knight conducted extensive discussions with its driver community about the value of video-based solutions, and then company leadership determined it was the right time to investigate products that would to meet their safety needs and business objectives.
Knight's pilot program assessed the impact of video-based safety programs against a number of core safety and operational metrics. The fleet realized an 84 percent improvement in safety performance, according to the news release.
"SmartDrive helps drivers protect what is most important — their safety and the safety of the motoring public," said Brett Sant, senior vice president of safety and risk management at Knight. "We evaluated different systems, but SmartDrive was superior. There was a significant difference in terms of collisions captured, the overall visibility to risk and the ability to access additional video context on-demand."
During a side-by-side trial with a competing product, Knight was able to capture twice as many, and a wider variety of, collisions including side-swipe and low impact collisions with SmartDrive. The Knight location where the pilot took place experienced the lowest claims cost in the fleet and had zero preventable DOT collisions during the trial.
"Our driving associates are embracing SmartDrive because it will help them get better and better at operating the truck as safely, effectively and productively as they can — protecting their commercial driver's license and their livelihood," commented Kevin Knight, founder and chairman, Knight Transportation.
Additional SmartDrive benefits cited by Sant and the Knight leadership team were:
Configurable risk scoring and coaching workflow
Dashboards that quickly identified areas of risk
SmartDrive SmartIQ safety and coaching scores that made it easy to measure, understand and improve performance
Flexibility to choose a single, road-facing camera that could be upgraded to additional cameras later should Knight choose to do so
"I was an aggressive driver and as an aggressive driver, you are putting yourself and your surroundings more at risk," said Roger Call, Knight Transportation driver. "After experiencing the SmartDrive program, I am more aware of the way I drive. For the company liability, my own safety and the public safety, SmartDrive has made a big difference."