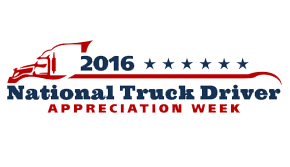 In advance of this year's National Truck Driver Appreciation Week, which will be held Sept. 11-17, the American Trucking Associations has launched an online store in support of the week.
Additions to the e-store for this year's event include a neon safety shirt, a search flashlight and a backpack, all adorned with the 2016 NTDAW logo. Items from previous years, including lunchboxes, hats and banners are also available.
ATA is encouraging carriers and suppliers throughout the trucking industry to hold appreciation events for drivers throughout the week this year.
More information on National Truck Driver Appreciation Week can be found here. The online store can be accessed here. Any orders must be placed by Monday, Aug. 8.