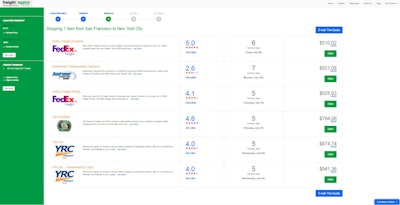 ShipX, a Kansas City-based online freight exchange, has rebranded itself as FreightorGator. In addition to a new name, FreightorGator has a new logo and redesigned website: www.freightorgator.com.
The rebranding better reflects the company's character and mission to save less-than-truckload shippers time and money through modern technology, it said in a press release.
The company also has temporarily waived its $25 booking fee to shippers that use the service to get negotiated direct rates from some of the industry's leading carriers such as YRC, Old Dominion and XPO.
"ShipX was an old name representing a new idea. It is time for our name to match the mold-breaking, time-and-cost-saving online service we provide to help small businesses simplify their LTL shipping," said Augie Grasis, CEO and founder of FreightorGator.
In the spirit of alliteration, FreightorGator is saying "later" to LTL middlemen, "later" to high freight prices for small businesses; to complicated and ambiguous rates from third party logistics companies; and to endless phone conversations with freight brokers.
When using the service, a customer enters its shipment's size, weight, origin and destination. FreightorGator then quickly aggregates shipping results from more than 25 leading LTL carriers for the customer to compare and then book their shipments. The system automatically dispatches carriers for pickups and customers are able to track their shipment until it arrives to its destination.
"Small businesses are often unable to negotiate fair, reasonable rates because they don't ship frequently at a high volume," added Grasis. "Now, LTL shippers are able to get the very best volume prices exclusively from FreightorGator while enjoying a simple, online user experience."