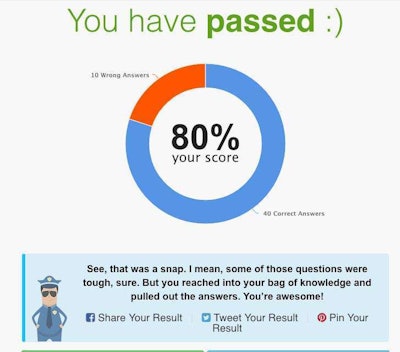 For more than a week, I've been grinding away at the CDL manual – well, the part of it that didn't deal with school buses or hazmat. Bless you hazmat people. There's no way I would want to be responsible for – or even tested on – all that.
For even mentioning the word "hazmat," I feel like I should put a placard somewhere. I have no idea where.
Before I really got deep into the manual, I decided to take several online practice tests just to see what I already knew and on which areas I needed the most work. My first few attempts went fairly well. I didn't pass but I got enough correct that, without having yet opened the book, I got a shot of confidence.
I made note of the areas that I really needed to emphasize and started reading through the book.
At the end of each section in the manual, there's a brief quiz – usually no more than five or seven questions – to test your memory recall of what you read. Generally, I did fine. With my confidence riding high, I took more online quizzes. And then it happened.
I got an 80 – the minimum passing grade on the written test. The little cartoon policeman at the bottom of my passing grade was so proud of me, he invited me to share my accomplishment with my Facebook friends and Twitter followers.
I took another one. The score went up. Then again. I was on a roll.
Surely someone who monitors this website will see my scores, recognize my test-taking prowess and grant my license immediately. I could totally be the truck driver version of Alex Rogan from The Last Starfighter, right?
As my confidence swelled, it hit me: There were 50 questions on this quiz but almost nothing about air brakes and absolutely nothing on trailering and hauling. There were sections dedicated to each in the manual but my little cartoon policeman friend never asked me about them so I didn't read them. Surely he wouldn't steer me wrong. Not my little CHiPs cheerleader.
Either I had just discovered a huge oversight that could rock the CDL test-taking process for generations to come, or …
THOSE ARE SEPARATE QUIZES, Y'ALL!
The little cartoon constable was now taunting me. "See, that was a snap."
Bite me. You didn't tell me this test wasn't all encompassing. Jackass.
"You're awesome," the little lightbulb-shaped law enforcement I'd come to loathe exclaimed. I'm now convinced N.W.A. got their disdain for "tha Police" when Easy-E went for his CDL without having read the air brake section of the manual, despite having passed the online test.
Just when I thought I'd hit the homestretch, I figure out I'm only a third of the way through.
I'll continuously blog my "quest for a CDL" as I navigate through the process, and I hope you'll find it a humorous journey from the prospective of a guy who just wants to learn to drive – legally. Part I can be found here.