CCJ's Indicators rounds up the latest reports on trucking business indicators on rates, freight, equipment, the economy and more.
---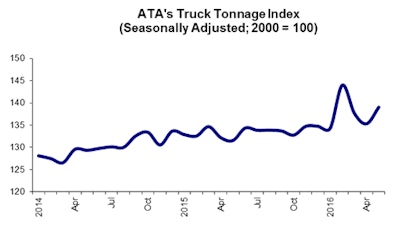 Tonnage up in May: The amount of freight moved by the for-hire trucking industry, as measured by ATA's monthly Truck Tonnage Index, rose 2.7 percent in May, according to numbers released by ATA June 21.
May's jump comes following two straight months of declines, though February's posting was an all-time high for truck tonnage, per ATA's index.
Compared to the same month last year, however, May 2016 was up 5.7 percent. Year to date, tonnage is up 4 percent, ATA says.
"Following two consecutive decreases totaling 6 percent, May was a nice increase in truck tonnage," said ATA Chief Economist Bob Costello. "Better consumer spending in April and May certainly helped, but economic growth remains mixed and I'd expect the recent choppy pattern in tonnage to continue for the next quarter or two. While one month doesn't make a trend, this was good news for the trucking industry."
---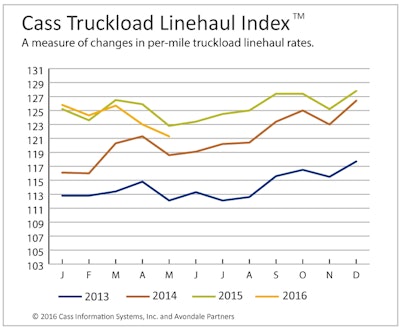 But rates continued to tumble in May, per Cass: Truckload linehaul rates sunk another 1.2 percent in May, according to Cass' monthly Truckload Linehaul Index, following declines of 2.3 percent in April and 0.6 percent in March.
Cass says "softer demand and excess capacity" have put downward pressure on rates.
The Linehaul Index measures the actual truckload pricing of per-mile rates, separating it from items like fuel surcharges and accessorials.