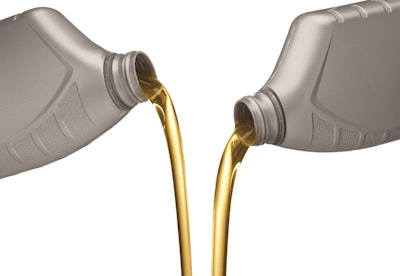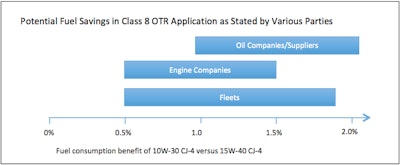 Fleets that switch to lower viscosity engine oils can increase fuel savings by as much as 1.5 percent, according to a new Confidence Report from the North American Council for Freight Efficiency and Carbon War Room. The top end of estimates from fleets and oil companies is even higher.
Mike Roeth, NACFE executive director, said the research for the report revealed that 5W-30 and 10W-30 engine oils, either the current CJ-4 or the upcoming CK-4, can replace the commonly used 15W-40 oils used in many trucks while also increasing fuel savings by between .5 and 1.5 percent. Additionally, the report estimated that the FA-4 variant of the new PC-11 oils can add an extra 0.4 to 0.7 percent fuel savings on top of the CJ-4 or CK-4 oils.
The report said that all new oils are tested and approved by the major original equipment manufacturers to meet durability requirements, regardless of viscosity. "All major North American engine OEMs have approved lower viscosity 5W/10W-30 engine oil for over-the-road applications," NACFE said, adding that truck owners should feel confident to use lower viscosity oils.
NACFE also found that another benefit of switching to lower viscosity oils is extended drains. To make up for the increased price of synthetic or synthetic-blend 5W/10W-30 oils, NACFE said an extended oil change schedule is possible. One fleet interviewed for the report said it was able to extend its drain interval by 20,000 miles by switching to a lower viscosity oil to help offset the costs.
The report says switching from a heavier, mineral-based oil to a lower viscosity synthetic or synthetic blend oil will typically cost 30 percent to 40 percent more. "While this fuel-saving technology does not require an upfront investment to adopt, the higher prices of the oils will increase maintenance costs over the lifetime of the switch," NACFE said.
Another challenge discovered by NACFE was compatibility of lower viscosity oils with older engines. NACFE said fleets don't want to use more than one oil for their fleet, so the organization recommended for engine OEMs to address compatibility of FA-4 oil with engines manufactured before 2017. NACFE said all major North American engine OEMs have approved 5W/10W-30 oils for engines dating to at least the 2010 model year.
"If these new oils can be backwards compatible, we'd like to see work go on to approve them for as far back as possible," Roeth said.
The new PC-11 oils, CK-4 and FA-4, are set to hit the shelves in December.