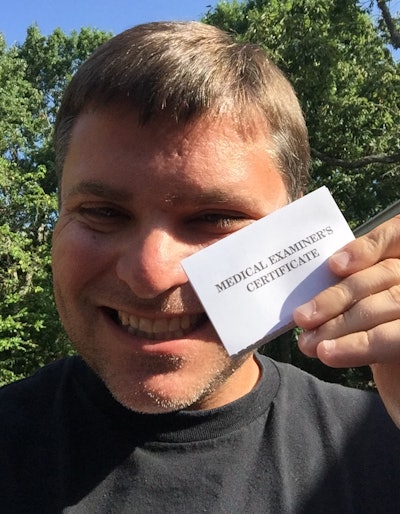 I was out of the office a few days last week to take my family to Rogers, Ark. My oldest daughter is a competitive rifle shooter and qualified for the Daisy National BB Gun Championship there for the second consecutive year.
In a span of five days, I drove in excess of 1,000 miles and not once did I have to prove I'm healthy. And I had a firearm (kind of) in the car.
I'm pretty much in the homestretch of studying for the permit portion of my CDL test. Last week I got some expert help from Tom Fallon, Ryder's top safety, health and security guy. The seemingly endless sections of the CDL manual were starting to stack up, and Tom basically told me to chill out and focus on general knowledge, air brakes and the combination sections. I kind of already knew that but having that kick in the pants from someone a lot smarter than me made me feel better.
Tom quickly diagnosed my over-thinking of this entire process and threw out a couple "you better know these" tips. With the exception of knowing what a wig-wag was, I did.
With my mind at ease, and now knowing what a wig-wag did, I expected to go take the test Friday. Expected. That changed with one call to the license office.
I first had to find a doctor to sign off on a Department of Transportation physical exam. You already knew that. I didn't.
I called Thursday to ask a few questions about what all I needed to bring to take the test, expecting to hear a driver's license, maybe a social security card and a small fortune. Then she hit me with, "don't forget your DOT medical card." Just exactly how stressful is this test? You need medical clearance to choose between multiple choice?
I've lived in this town for seven years and have been to the doctor twice. I go to the doctor so infrequently that I'm fairly sure Blue Cross/Blue Shield thinks I'm dead, but they don't say anything because the premium keeps showing up.
Now, I've got to make an appointment for a test insurance doesn't even cover when I'm not even sick. In fact, I need a piece of paper from the doctor to prove I'm not sick but went anyway.
Maybe I am – and the people like me are – part of the reason for these screenings. You don't want a guy with undiagnosed serious medical issues (or bad hearing or vision) hurtling an 80,000 pound truck and trailer down the Interstate, but it's not like that same guy driving a Honda CRV to Northern Arkansas is a lot safer.
I'm all about law and order so 45 minutes and $80 later, I now have a laminated piece of paper that says I'm healthy and am certified as such for the next two years. Maybe the surprises are over and in the next 5 to 7 days – I can only take the test on Thursdays or Fridays at 8 a.m. – I can finally climb into the cab of a truck and hit the road.
We'll see.
I'll continuously blog my "quest for a CDL" as I navigate through the process, and I hope you'll find it a humorous journey from the prospective of a guy who just wants to learn to drive – legally. Part I can be found here. Part II can be found here.