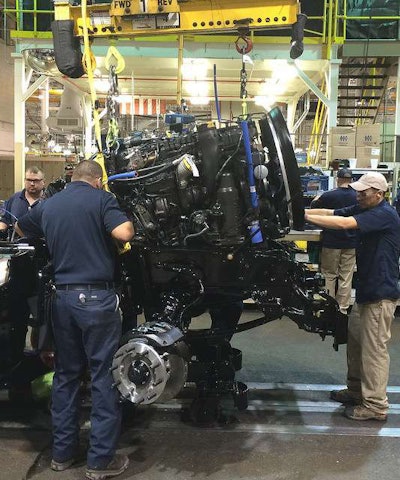 Demand for Class 8 trucks rose faster in June than supply for the second time this year and only the fourth time in the last 19 months, according to the most recent ACT For-Hire Trucking Index from ACT Research Co.
Steve Tam, ACT's vice president-commercial vehicle sector, says the balance between supply and demand is still held hostage by widespread macro-inventory overhang, including the availability of freight and a battle between shippers and carriers over rates.
"Capacity has loosened. Spot rates are down, so revenues are down," adds Jonathan Starks, chief operating officer at FTR. "And recently the contract market has taken a cue from the looser capacity, and weakness has been seen in this sector as well. Surcharge revenues are also way down – which impacts revenue – even though it generally has less impact on the bottom line. Put it all together and you end up with a market that isn't extremely favorable for carriers, nor is terribly bad. Revenues are down across the board and that makes business operations more difficult, but freight levels are stabilizing and capacity-sapping regulations are coming down the pike – either this year or next."
"[June] is only the second time in 10 months that freight volumes showed any meaningful increase," Tam says. "Time will tell whether this is the beginning of a trend or a temporary or transient anomaly."
According to preliminary data from ACT Class 8 truck orders dropped to 13,100 units last month, the worst June for truck orders since 2009.