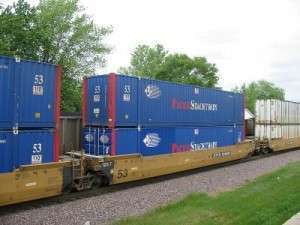 Florida East Coast Railway has partnered with Logistical Labs, a cloud-based supply chain software provider, to allow mutual customers to access FECR intermodal rates directly within the LoadDex pricing tool.
LoadDex will be embedded in FECR's online portal EZ Buy. The companies say the partnership allows for easier route and mode optimization for customers as EZ Buy provides an online price quote and booking system for customers to 'buy' door-to-door intermodal transactional freight connecting the Southeast U.S. markets and South Florida markets.
"Having our intermodal rates on LoadDex's centralized pricing tool is another value-added convenience for customers to see both rate
and capacity options and determine the best mode of transport," said James R. Hertwig, Florida East Coast Railway President & CEO.
LoadDex will now have FECR intermodal rates, in addition to truckload and LTL rates, which can provide customers with an easier and more convenient way to determine route and mode optimization and access to competitive pricing.
EZ Buy allows users to receive access to dynamic price quotes, while having the ability to negotiate that price, and book an order in one quick easy transaction. Purchasing freight via EZ Buy is offered between the Southeast U.S. markets of Atlanta, Charlotte and Jacksonville, and the South Florida markets of Fort Pierce, Fort Lauderdale and Miami, by entering a pick-up and delivery zip code or city within these serviceable areas.