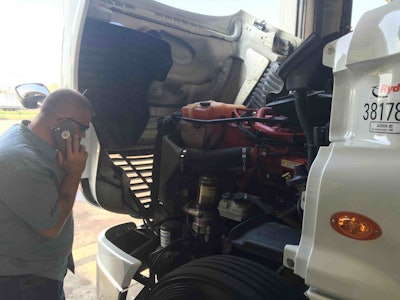 The guy in the photo to the right is Tom Fallon.
Tom is Ryder's top safety dude. Tom is a heck of a guy.
According to the State of Alabama, I'm quasi-legal to drive a rig on the highway but there is still one major hurdle standing in my way of shedding the trucker training wheels: Taking the road test.
For the most part, I'm fairly confident there. I can drive and I can back (kind of), at least to the ability of a beginner. I've been behind the wheel more times than I can count but I have never had to pour over 140-something inspection points before setting out. This is where Tom comes in. Or flies in, actually.
Tom left his home-base in Pennsylvania and flew to Birmingham, Ala. – narrowly beating out Delta's Chernobyl-level computer meltdown – to walk me through a pre-trip inspection.
I knew this part was going to be difficult, but I was fairly confident. I know what the major CSA violations are and I know how to spot most of them. How hard could this be?
Hard? Not very. Involved? Oh, man.
When you do these things everyday, I guess they become routine. You hit this subconscious groove and before you know it – 15 or 20 minutes later – you're just done. You don't really know how. You don't really think about it. You just ninja your way through this process.
The moment we approached our Cascadia Monday morning it was apparent that I wasn't going to hit that gear. "Okay, now what," I recall thinking, hoping that tilting the hood forward would be a major part of the pre-trip inspection test.
Tom spent the next hour walking me through every step of a quality pre-trip – from the front bumper to the trailer's underride guard – before handing the reins over to me.
Now it was time to show Tom what I'd learned. The trouble started early. I made a good pass through the engine compartment but overlooked the steering components. Not a major deal, right? Not a "fail you on the spot" kind of deal, anyway. In my defense, I did inspect and note the power steering fluid was at appropriate level and that the hose was free of cracks and wear.
I worked my way through the cab, then on to the rear of the truck. Pretty good. A couple misses here and there, which Tom would point out once I'd prematurely move on to the next thing, but I was hitting most of the major points. Maybe I'd worked myself up over nothing. This wasn't so bad … until it was.
I finished the truck and moved to the trailer, forgetting that handy little piece of equipment that hooks them together. With only a handful of inspection points on a fifth wheel, I picked a really stupid thing to overlook.
Thankfully in this classroom setting the omission was no-harm, no-foul. After a slap of the forehead and muttering "son of a …" under my breath, we were back on track.
It's amazing a lot of you can knock this out in 15 minutes.
I'll get the hang of it, at least enough to convince the DOT that I have the potential to be pre-trip ninja. Until then, I'll just marvel at the expertise of guys like Tom Fallon and be thankful for their willingness to share it.
I'll continuously blog my "quest for a CDL" as I navigate through the process, and I hope you'll find it a humorous journey from the prospective of a guy who just wants to learn to drive – legally. Part I can be found here. Part II can be found here, Part III here, and Part IV here.