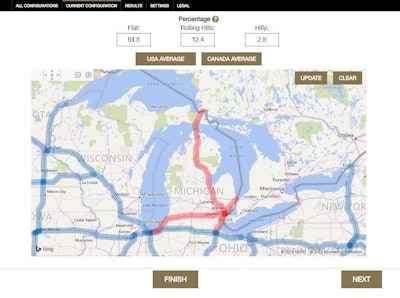 Mack Trucks has rolled out a fuel economy tool at its dealership network, which allows Mack customers to input and modify a number of variables on Mack Pinnacle highway models, select a route and evaluate fuel-savings potential against a baseline configuration.
Scott Barraclough, Mack technology product manager, says this new tool allows customers to quickly see the fuel efficiency impacts of different truck configurations, enabling them to optimize the spec of their Mack Pinnacle models to save fuel and help boost their bottom lines.
The Mack fuel economy tool allows users to choose from a number of Mack Pinnacle model component and application options that affect fuel efficiency, including weight, speed, engine size and rating, transmission, axle ratios, tires, aerodynamic enhancements and more. Specs for the customer's current Mack Pinnacle model are used as a baseline and can be compared with up to four alternative configurations.
The tool includes an interactive map that allows customers to choose from several major interstate highway routes, providing a breakdown of flat, rolling hills and hilly terrain. Topographical information is then used in the fuel efficiency comparison.
Once all components and variables are selected and submitted online, the comparative results are calculated by a server-based simulation program and emailed directly to the dealer salesperson for prompt review and discussion with customers. Should a customer require additional information, the tool is capable of monetizing the comparison based on a customer's average miles traveled per year and cost of fuel.
"The Mack fuel economy tool not only helps our highway customers make better decisions for their business, it also helps them see the benefits of our fully integrated powertrain," Barraclough says. "It demonstrates how our fuel-efficient technologies, like Mack Super Econodyne and Mack Load Logic, deliver fuel savings."
The Mack fuel economy tool uses a proprietary simulation program to analyze each chassis spec entered and develops comparative results based on data attained from field and simulation testing. While it is difficult to capture all of the possible factors that affect fuel efficiency, the Mack fuel economy tool is the most detailed tool available to dealers and customers today.