After decades of wrestling with hours-of-service regulations and paper logbooks as a driver, owner-operator and fleet owner, Steve Rush has reached a conclusion: electronic logging devices are the best thing to happen to the trucking industry.
Rush started his career in 1965 as a union driver at a motor carrier in New Jersey. Back then, interstate carriers were granted operating authorities for specific lanes by the Interstate Commerce Commission (ICC). HOS compliance, he says, was not much of an issue with his predictable work schedule.
Cheating on logs happened "but not a lot," he recalls. That all changed in 1972 when he became an owner-operator in the tanker business.
"The more you cheated, the more money you made," he says.
He founded Carbon Express in 1983 during the dawn of ICC deregulation. As new carriers entered the market, rates went down and he admits his company drivers and owner operators regularly exceeded HOS limits to keep his business afloat.
The culture of noncompliance at Carbon Express continued through 2006. One day, the safety director of the Wharton, N.J.-based fleet came to Rush's office. An industry association, the National Tank Truck Carriers, had invited Carbon's safety director to chair a safety committee. The safety director told Rush he would not accept it, as they both knew HOS compliance was a facade.
"I looked at him and thought about it," Rush says, and then replied: "You have my word. We'll change."
The change came but it was not easy. Management and drivers were frustrated at times, he says, but after two years Carbon Express had a culture of compliance. Management then decided to implement electronic logs. To smooth the transition, drivers ran e-logs side-by-side with paper logs for six months.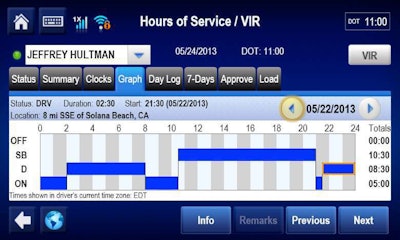 Carbon Express has been using e-logs from its onboard computing supplier Omnitracs for eight years and has grown from 23 to 49 trucks during that time. Rush credits the technology for forcing management to be profitable and safe.
"Electronic logs woke us up and made us understand we were losing money," he said. "We had no choice but to give up or raise our rates."
In 2015, Carbon Express had zero DOT-reportable accidents with operations that amassed more than five million miles. It has had only one accident in the last four years.
Its customers have taken notice of its culture and stability. "They want to know that when the ELD mandate hits in 2017 you are going to keep on going," he says.
In 2010, Carbon Express made another significant change. To increase payload capacity and revenue, it replaced the fleet of sleeper cabs with day cabs. This gave the company 20 percent more capacity than competitors that run sleeper cabs, but it came with the additional cost of hotel rooms.
"When we got rid of sleeper cabs, we did it to get more business. At the end of the day, we saw what hotel rooms did for drivers. It improves their self-respect and dignity. If you ask our drivers, the majority will tell you they couldn't go work for someone else and sleep in the back of a truck."
Rush credits e-logs and hotel stays, along with high driver pay, for an annual turnover rate in the single digits. Drivers have "got it down to a science" of where to stay on their routes, he says. Carbon Express drivers carry a corporate lodging card from American Express and book their own stays.
Planners at Carbon Express use real-time driver log data in its TMW Suite dispatch software to match loads with drivers to provide them with consistent schedules and sleep patterns. Carbon uses the data for pricing as well. It charges premiums for delivery appointments after hours and on weekends, which may require adjusting its drivers' schedules and sleep patterns, Rush says.
"People want a routine that fits them," he says.
Carbon pays drivers by the hour for loads of under 250 miles and a mileage rate for longer hauls. Drivers are paid for all pickups and deliveries, and get a bonus when circumstances require them to take a 34-hour reset on the road.
"We changed the culture here, and this industry has to change the culture," he says. "We firmly believe that the combination of going to e-logs and running legally, coupled with the elimination of sleeper cabs from our fleet and putting our drivers who layover in hotels, has been the driving force in our success in the areas of safety, low driver turnover and the enhancement of our driver's self-esteem."