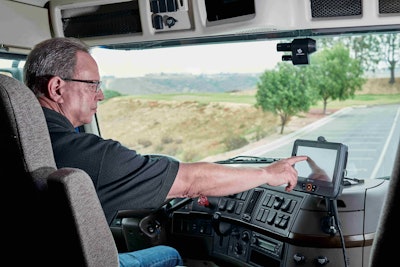 With more than a year before enforcement begins for the electronic logging device (ELD) rule mandate in December, 2017, about 44 percent of for-hire and private fleets have yet to implement e-logs. Twenty-six percent are in the process of outfitting their fleet.
These results come from a recent CCJ survey of fleets with more than 10 power units. The survey also found the main reasons for stalling on e-logs are cost (40 percent) and loss of driver productivity (24 percent).
Some productivity loss is expected when drivers no longer use paper logs to mask inefficiencies like delays at shipping and receiving docks and traffic congestion. Even so, with real-time visibility data of drivers' hours, fleets can regain lost ground by improving route planning and scheduling.
One of the challenges of using e-logs is being able to predict when, where and how much time drivers will have available to plan load assignments. In the past, drivers could be available as needed by creatively making time on paper.
As e-log use continues to grow, motor carriers and technology providers are coming up with ways to solve operational challenges in addition to being compliant.
Operational data
For personnel who plan routes, the planning process is complicated by the fact that routing, dispatch software and compliance applications are often separated into different programs and databases, explains Cyndi Brandt, senior director of product marketing and strategic alliances at Omnitracs.
Brandt joined Omnitracs from Roadnet Technologies after the company was acquired by Omnitracs in December, 2013. Roadnet's fleet management and routing software is primarily used by private fleets with multi-stop routes for local and regional distribution.
Since the acquisition, Omnitracs has been integrating Roadnet's software with its portfolio of in-cab and mobile fleet management platforms that include e-log applications.
Fleets that use Roadnet have traditionally had to enter available driver hours manually into the software to create optimal daily pickup and delivery schedules and routes.
Besides the time cost for manual data entry, hours-of-service data could be outdated when drivers and trucks hit the streets the next morning, she says. This is because routes are typically created towards the end of a business day for next-day delivery.
As a result, driver assignments may need to be switched up at the last minute when fleet planners get fresh HOS data, she says. Using real-time hours-of-service data in the route planning process is difficult to do, but Omnitracs is working towards this goal with the release of a new integrated system it calls Routing+Dispatch+ Compliance (RDC).
The new product has a unified platform for creating routes, dispatching drivers and managing compliance. The next evolution, slated for a near-future release, will bring live hours-of-service data and historical traffic information to Roadnet's algorithms to create optimized routes, she says.
Some mid-size and large truckload carriers with irregular routes are already using software systems that utilize live hours-of-service data to optimally match drivers, equipment and loads.
One such fleet is Maverick Transport, based in North Little Rock, Ark., with 1550 trucks and flatbed, glass, specialized and temperature-control operations. The company began to prepare for electronic logs in 2010 by matching the position history of trucks to driver logbooks. In mid-2011, it began using an electronic logging application that it fully implemented by September, 2011.
Wayne Brown, vice president of information technology, says the company uses real-time visibility of drivers' duty status to "manage and utilize equipment in an efficient and knowledgeable way." Its software from Manhattan Associates gives load planners optimal recommendations for driver-load matches and routes.
Checks and balances
When implementing e-logs, the routine checklist of tasks for matching drivers with loads can be tedious. An e-log system shows hours that drivers have available, but load planners and dispatchers need additional insights to determine what drivers can realistically do.
Time zone changes, home time requests, customer appointments, mandatory breaks and more are all factors in the equation.
P&S Transportation, a 1,100-truck carrier based in Birmingham, Ala., is using a planning tool called Driver Feasibility in its transportation management system, LoadMaster, from McLeod Software. The tool serves as an automated checklist for driver-load assignments by evaluating drivers' current hours-of-service, location, load status and the future availability.
P&S Transportation requires all personnel in operations and dispatch to use the tool when assigning loads to drivers that run e-logs, says Tiffany Giekes, director of business process. The company implemented e-logs 2.5 years ago in its flatbed and refrigerated operations.
"We are making good business decisions before we talk to a driver about a load," she says. "It is a huge benefit to know if a driver is going to make it on time."
Driver managers at P&S also use the tool to coach drivers up who are relatively new to e-logs. With Driver Feasibility, managers can give advice on how to plan trips, such as where to take breaks and fuel, to make deliveries safely and on time.
Driver Feasibility uses a Gantt chart that visualizes the time a driver has available for the load assignment based on status for the 70-hour rule, 14-hour on-duty and 11-hour daily limits.
The virtual log shows where the driver is currently, and how much time it will take to travel between points (loading, fueling, unloading, etc.), and where and when a driver will likely take breaks, says Robert Brothers, manager of product development for McLeod Software.
Driver Feasibility can bring in historical data from LoadMaster to project how long a driver will spend at a customer pickup or delivery location. The tool does not know some information, however, like how long a driver will stay off duty; a break could last more than 10 hours, he says.
Real-time policing
A large percentage of the over-the-road carriers that use enterprise management software from TMW Systems are using a tool called TripAlert that ensures driver-load assignments are geared up for success.
TripAlert integrates with the dispatch software to generate the most efficient route line for a load using the PC Miler routing application from ALK. Its algorithms bring in driver's current hours-of-service and route travel times, among other data, to predict where drivers will take breaks and stop for fuel.
The calculations determine if the driver can meet the appointment times of the load. The software sends an immediate alert if the chosen driver-load combination does not work. Once a truck is dispatched, it continuously monitors vehicle location, drivers' hours-of-service, and other real-time data to calculate an accurate ETA for each planned stop on the route.
If the driver is, at any time, in jeopardy of exceeding the HOS requirements or missing the prescribed appointment times, the software also sends an e-mail alert to dispatchers, customer service reps and other stakeholders, says Brian Larwig, vice president of optimization for TMW.
The tool provides recommendations to swap loads with nearby drivers to make deliveries for loads that are in jeopardy of being late, he says.
"The real bonus of using this product is that it provides us with the visibility to make sure our drivers are always moving, and allows our operations team to get creative when new routing solutions are needed due to road closures or weather delays," says Don Digby, Jr., president of Navajo Express, a refrigerated carrier with 1,000 trucks based in Denver, Colo., that specializes in grocery store deliveries.
Smart navigation
Drivers already use mobile apps on their personal smartphones to locate truck stops and other points of interest on their routes to take mandatory breaks. When using e-logs, advanced trip planning tools for drivers can be even more valuable.
Some routing and navigation systems can recommend where drivers should stop on routes to maximize utilization within the hours-of-service constraints.
ALK has a new feature, HOS Manager, in its recent version 29 of the PC Miler routing, mapping and mileage software. The user interface for HOS Manager is currently designed for manual entry of driver hours in the routing process.
A dispatcher, for example, can see if a driver is at risk of violating HOS rules based on distance and travel times. And the software shows locations where drivers can take required breaks.
The HOS manager is designed as a planning application and does not monitor drivers' remaining hours to offer updated alternatives, says Bill Maddox, ALK's vice president of PC Miler.
ALK's in-cab CoPilot navigation software is capable of receiving trip data, including planned breaks, from PC Miler in the back office through integration with onboard computing systems, he says.
Telogis, a Verizon company, has a suite of integrated applications for route planning and navigation that factor in drivers' hours of service. Telogis Route creates optimal route plans that reduce miles and costs, and the routes are dispatched to drivers through the Telogis Fleet mobile platform with electronic logs.
A cloud-based Telogis Navigation app runs on mobile devices to give drivers turn-by-turn guidance and shows when and where to take breaks, with recommendations for POIs, such as truck stops, based on feedback from its user community of drivers.
"This is an opportunity to not only operationally be efficient, but take into account the driver experience," says Kelly Frey, Telogis' senior vice president of marketing.
The integrated package can deliver real-time ETAs to customers for arrivals that factor in mandatory driver breaks. And with real-time and dynamic ETA visibility, fleets can offer their customers an Uber-like experience, he explains.
While waiting for an Uber driver, the Uber app shows the minutes remaining to the arrival pickup. Similarly, motor carriers can give their customers live ETAs to help with scheduling resources to accelerate pickups and deliveries to keep drivers moving, he says.
As more of the industry adopts ELDs, and tools to make the most of the data, experts believe the productivity benefits will outweigh the costs. One possibility is that the collective data and experiences of fleets and drivers running e-logs will shed new light on problems that have largely been ignored because of paper logs, such as delays at shipping and receiving docks.
"Everyone has to be on same data set to show an accurate picture of the industry," says James McCarthy, business development specialist for VDO RoadLog, a division of Continental and supplier of ELD technology. "Lobbyists are going to have data to bring to Washington."