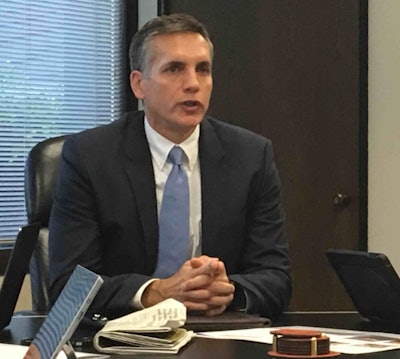 Kenworth's new General Manager Mike Dozier came into his role in April, just four months behind 2015's banner year for truck sales.
To-date, 2016 hasn't been as favorable to the industry but Dozier isn't willing to concede his first year atop the company as anything other than a continuation of the company's success.
"In the year overall, we're looking at a good year," he says, noting growth in the GDP and in the construction segment. "We're looking at 2016 as a good year, but perhaps needing a bit more focus than last year."
Forecasts for truck orders this year have been adjusted downward three times since January, now settling with an industrywide sales expectation of between 220,000 to 240,000 units by year end. Coming off a strong 2015, it's easy to focus on the negative, but Dozier says much of the positives are being overlooked.
"A strong market will put [2016] in the Top 5 markets we've seen," he adds.
Kenworth's marketshare in Class 8 is forecast to hover around 15 percent to close out the year, marginal growth over 2015. Dozier says the T680, launched in 2013, currently makes up nearly 60 percent of Kenworth's orders. T880, launched in 2014, is nearly 30 percent and nearly 45 percent of Kenworth's trucks are equipped with a Paccar MX engine when they leave the assembly line.
Dozier inherits a team at Kenworth that has helped its parent company Paccar achieve 77 consecutive years of net profit and has booked $8.7 billion in revenue for the first half of this year.
Paving the way for future success and growth, Dozier says Paccar has put upwards of $375 million into capital investments, with upwards of $260 million put into research and development.
"We are a product company," he says. "It's about the products we build. Being an engineer by training, I'm very passionate about them. I like trucks. I always have."
For the past three years, Dozier served as Managing Director of Paccar Australia, among the most competitive heavy duty truck markets in the world. He spent nearly five years as Assistant General Manager – Operations for Peterbilt Motors Company in Denton, Texas.
A longtime Paccar employee, he began his career in 1988 as an associate design engineer and was Kenworth's chief engineer from December 2004 until August 2008, and Kenworth assistant chief engineer for new product development prior to moving into the chief engineer role.
Dozier earned his mechanical engineering degree from Texas A&M University and a graduate degree in management from Stanford University. He received his professional engineer license in 2004 and graduated from the Stanford Executive Program in 2006.
Growth in dealer network
Jason Skoog, Kenworth assistant general manager for sales and marketing, says the company has invested $600 million in its North American dealer network and its 370 dealer locations.
One hundred of Kenworth's dealerships are Premier Care Gold certified, a designation that signifies the location's commitment to service excellence. To achieve certification, a dealership is required to have an express service lane with capabilities for a two hour triage; extended hours of service, with a minimum of 80 working hours; 24 hour roadside assistance; certified Paccar engine technicians; outstanding parts availability; and a dedicated TruckTech+ personnel and a premium driver's lounge.
Additionally, the company has more than 18,000 trucks running the Truck Tech+ diagnostics platform with more than 600 million miles.