CCJ Innovators profiles carriers and fleets that have found innovative ways to overcome trucking's challenges. If you know a carrier that has displayed innovation, contact CCJ Editor Jeff Crissey at jcrissey@ccjmagazine.com or 800-633-5953.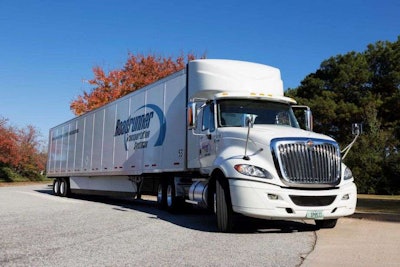 Roadrunner Transportation Systems (CCJ Top 250, No. 27) has a name that implies getting things done fast, and judging by the company's rapid growth over the last 10 years, the name could apply to its ambitious plans for global expansion just as much as it does for quick delivery.
Oddly enough, the asset-light transportation and logistics services provider also is finding success with what it touts as a flexible and responsive strategy to its customers' needs, and one that's seemingly a direct contradiction to its moniker: adding days to delivery.
The Cudahy, Wis.-based company offers a full suite of solutions, including customized and expedited less-than-truckload, truckload logistics, transportation management solutions, intermodal solutions, freight consolidation, inventory management, expedited services, international freight forwarding, customs brokerage and global supply chain solutions.
Roadrunner has come a long way since 2006 when it ranked No. 149 in the first-ever CCJ Top 250; the rankings before that year had been dedicated to the nation's top 100 for-hire fleets. In that first appearance in the ranking, the company – then known as Roadrunner Dawes Freight Systems – posted $345 million in 2005 revenue, operated 405 tractors and 616 trailers and had 563 drivers, primarily owner-operators.
An indication of things to come was evident in the 2007 ranking, when the company blasted halfway up the ranking to No. 75, recording $555 million in 2006 revenue – a nearly 61 percent increase – and operating 1,316 and 2,051 trailers, with 1,398 drivers.
The LTL hauler refocuses its network standards to further enhance service consistency.
Roadrunner filed its Initial Public Offering in July 2008 and went public in May 2010. In last year's ranking, the company reported $1.873 billion in 2014 revenue and operated 3,900 tractors and 5,500 trailers, with 4,063 drivers.
Decade of diversified growth
Roadrunner's recent head-spinning growth spurt began in 2011 with eight acquisitions within a two-year timeframe. In May 2013, the company announced two more: Adrian Carriers, a Milan, Ill.-based provider of container management and intermodal services, and Wando Trucking, a Charleston, S.C.-based provider of intermodal and related services in the Southeast.
In July 2013, Roadrunner acquired Springfield, Mo.-based Marisol International, a nonasset-based supply chain-critical provider of international ocean and air transportation management, for $66 million. Two months later, Roadrunner purchased Batesville, Ark.-based G.W. Palmer Logistics, a nonasset temperature-controlled truckload provider, for about $2.5 million. That same month, Roadrunner acquired Salisbury, Mass.-based refrigerated truckload provider Yes Trans Inc. for $1.2 million.
In February 2014, Roadrunner bought Little Rock, Ark.-based Rich Logistics, a provider of truckload and expedited services throughout the United States and Mexico, along with Everett Transportation Inc., an exclusive Rich contractor, for about $48 million. The next month, Roadrunner acquired Los Angeles-based Unitrans International Corp., a nonasset-based provider of international ocean and air logistics solutions for cold chain and high-value shipments, for $55.5 million.
In July 2014, Roadrunner purchased Kokomo, Ind.-based ISI, a regional logistics provider for the automotive industry, for about $13 million. The next month, Roadrunner acquired Belleville, Mich.-based Active Aero Group, a supply-chain solutions provider of ground and air expedited services, for about $115 million.
In July 2015, Roadrunner bought El Paso, Texas-based Stagecoach Cartage and Distribution for about $35 million. Stagecoach provides regional, intermodal and over-the-road truckload services throughout the southwestern United States and Mexico, as well as cross-border warehousing and transloading solutions.
To better reflect the expanded offerings available through its series of acquisitions, in August 2015 Roadrunner changed the name of its Transportation Management Solutions operating segment to Global Solutions to further market its ability to help customers reduce operating costs, improve global supply chain efficiency and enhance their customer service.
"We believe the name Global Solutions better reflects the growing importance of our global capabilities within our overall portfolio of service offerings," says Mark DiBlasi, the company's chief executive officer.
Refocused standards
More recently, Roadrunner raised eyebrows when it announced several actions within its domestic LTL freight network in response to shippers watching costs more closely in today's economic environment. While many customers view shipping as a necessary cost of doing business, at the same time they are looking for opportunities to reduce those expenses to help their bottom line. They want timely pick-ups, delivery when promised and fast transit times, all at a reasonable cost.
That's why the company refocused its network standards to further enhance the consistency of its service and provide shippers with better visibility to delivery dates, enabling them to more effectively plan their supply chains while economically managing their transportation expenses.
Grant Crawford, president of Roadrunner LTL, traces the origins of Roadrunner's extended delivery strategy several years back to 2008 and the beginnings of the Great Recession, "when everyone was forced to look at their costs and their bottom lines, and how to manage their supply chain more effectively. Rather than push the easy button, we dug deeper to find ways to make things more efficient for ourselves and our customers."
Crawford said that after an analysis of its customers and their needs, the company realized that speed was less important than had been anticipated. "What was more important with customers was reliability at a good price point," he said. "That was really the cornerstone of our changes."
Roadrunner used that information to determine its capabilities to maintain and even improve its service standards while meeting an assumed price point – "to keep us competitive in the space we wanted to play in, as a longer-haul economy provider," Crawford said.
Roadrunner realized that adding days to delivery provided the best of both worlds for both the company and its customers. Crawford said the LTL industry's average for successful on-time delivery averages just over 95 percent, but that by adjusting its lanes by adding days, Roadrunner's stronger lanes now average "in the high nineties."
Crawford admits "there's a certain law of diminishing returns you hit, where the change in speed and price impacts the customer in different ways." He cites trips from Atlanta to Dallas as an example. "It's a two-day lane for the majority of asset-based LTL products," says Crawford, who came to Roadrunner after more than two decades at FedEx. "For us, it's a three-day lane. If the customer can schedule around that extra day at a 20 percent lower price, it's a win-win for everyone – an opportunity cost through time."
Crawford says, however, that Roadrunner isn't necessarily locked in to its padded delivery schedules and that the strategy is part of a longer-term investment in its customers. "As we continue to meet or exceed expectations with customers who are fully understanding what we offer at what price, we have the opportunity to build density and then look at ways to speed service up and help customers that might want to shave a day or two off in select markets," he says.
To that end, Roadrunner has introduced an optional premium service that provides guaranteed delivery on a scheduled day in select major metropolitan markets, including Chicago, Dallas and Los Angeles. The company's Guaranteed Product service, now available in 72 of its lanes, offers faster delivery and weekend availability for a nominal upcharge.
"The key is to increase our customer loyalty and base," Crawford says. "It puts us in a much better long-term position." He believes Roadrunner also will be able "to work backward and help our customers find ways to speed it up in certain lanes."
Crawford admits the company's revamped lanes might face skepticism. "A naysayer would say they just slowed their network down," he says. "We're letting the customer decide. We find that a few months into this, it absolutely resonates."
Roadrunner's network adjustments also have made it easier to schedule trips within hours-of-service parameters and the pending electronic logging device mandate, while shippers and their customers are assured they're doing business with a compliant and safe transportation provider.
"It's literally the need for speed vs. dependability," Crawford says. "When you lay out the math, the cost savings and everything else for the customers, they look across their offerings and see ways they can make it work."