CCJ's Indicators rounds up the latest reports on trucking business indicators on rates, freight, equipment, the economy and more.
---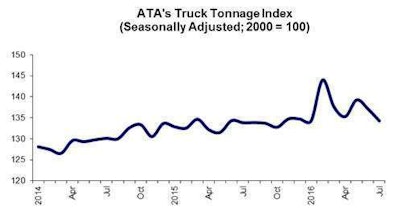 Tonnage dips again; softness expected to continue: The amount of freight carried in July by the for-hire trucking industry, as measured by ATA's monthly For-Hire Truck Tonnage Index, dipped 2.1 percent in July from June, ATA reported Aug. 23.
July's dip follows a 1.6 percent dip in June. Compared to the same month last year, tonnage was up 0.3 percent. Year to date, tonnage is up 3.2 percent, ATA notes.
"On a monthly basis, tonnage has decreased in four of the last five months and stood at the lowest level since October during July," said ATA Chief Economist Bob Costello. "This prolonged softness is consistent with a supply chain that is clearing out elevated inventories. Looking ahead, expect a softer and uneven truck freight environment until the inventory correction is complete. With moderate economic growth expected, truck freight will improve the further along the inventory cycle we progress."
---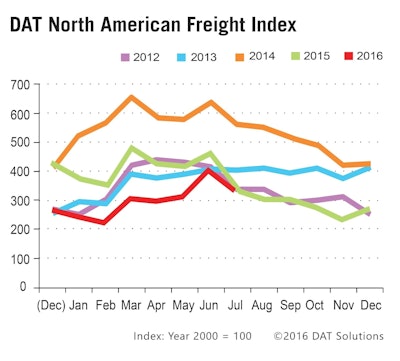 Spot market freight also dipped in July: Total spot market freight volume fell 17 percent in July from June, according to DAT's monthly Freight Index. The decline is line with seasonal trends, DAT notes.
Van and reefer fell 14 percent each, while flatbed loads fell 23 percent. However, van and reefer posted gains of 17 percent and 5.2 percent, respectively, compared to the same month last year. That's the first year-over-year gains of 2016, DAT reports.
Flatbed volume was down 18 percent from the same month last year.
DAT's Mark Montague said spot market volume could start to trend upward, based on cutbacks in the contract market. "As trucks are withdrawn from the marketplace, shippers are beginning to assign a larger portion of freight to third party logistics providers and freight brokers," Montague said. "If these trends continue, spot market volume could exceed 2015 levels for the rest of the quarter, driving rates up."
Rates fell in all three truckload segments in July compared to the same month last year, DAT also reported. Van rates fell 6.5 percent, while reefer dropped 6 percent. Flatbed fell 7.1 percent.