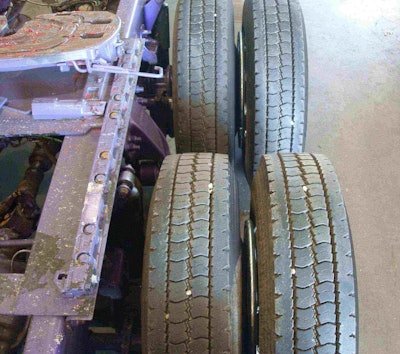 Among the leading causes of CSA violations nationwide and a Top 3 annual expense for virtually every truck on the road, tires command a lot of attention, maintenance and dollars.
While proper inflation is the single most important thing you can do to maximize the safe wear of your tires, balancing – a far more uncommon and often controversial practice – can set your truck up for savings and increased efficiency before a new set of tires ever touches the highway.
Methods of commercial tire balancing vary, as do the opinions of whether or not it's necessary and on which axles balancing is most effective. But one thing is certain; the idea that it is time consuming is a deciding factor in why many fleets opt to omit balancing from their maintenance routines.
"The main reason that tire balancing isn't common in heavy trucks is the perception of time required," says Derek A. Forney, associate product manager for IMI Products. "With the added factor of recommended re-balancing every 20,000 miles, using wheel weights isn't practically feasible for balancing some or all wheel positions."
Forney says spin balancing upwards of 18 tires with wheel weights can add 10 to 15 minutes per tire on installation.
Ken Eggen, fleet services manager for Lone Star Truck Group, says he's seen data that supports tire balancing and believes in the practice. However, the intensive man-hour investment was exactly what kept him from mandating the balancing of anything other than steer tires.
"When I ran 1,000 trucks in a fleet, it's just tough to take the time," he says.
Like Eggen, many fleets have saved time by honing balancing efforts on steer tires, where vibration in the steering wheel can wear on drivers.
"However," Forney adds, "the greater fatigue often comes from the shake delivered from imbalance in drive tire positions, which directly transfers to the cab of a truck."
Cal-Maine Foods, Inc., the largest distributor of eggs in the U.S., is in the process of outfitting its Lake Worth, Fla.-based fleet of egg trucks with Centramatic balancing systems, having already installed them on upwards of 30 trucks.
Woody Weltzbarker, who serves as the company's fleet maintenance manager from the Florida location, says ride improvement has been just one of the benefits of balancing all the axles on the truck and trailer.
"The ride is a lot smoother. It really is a world of difference," Weltzbarker says. "But the other major benefit that I've seen with balancing that is that identifies other problems on the truck and on the trailer, such as U-joints that are going bad. The driver is able to identify other problems when it's not 'driving like a truck.'"
Mike Manges, Manager of Goodyear's commercial and off-highway tire communications, adds imbalances also can contribute to sub-optimal steer tire performance.
All rotating parts in the truck are factory balanced to prevent damage, Forney says, except for tire and wheel assemblies. Left unchecked, fleets are not reaping the residual maintenance benefits that balancing can provide.
"Balancing wheel assemblies reduces the damage vibration causes on lights, bearings, U-joints, and other suspension parts," he says, "resulting in reduced down time and lower maintenance costs."
"When you eliminate controllable vibrations all day everyday," says Bob Jessee, regional account manager for Centramatic, "all parts that are vulnerable to vibrations, including but not limited to bearings, tie rod ends, ball joints, king pins, on board computers/electronics and gauges… will last longer."
While balancing a tire and wheel is a common – even expected – practice for passenger and light truck tires, the process is not the same for commercial truck tires or by fleets.
Delvin Webb, U.S. customer engineering support manager for Michelin Truck Tires, says the engineering behind tire design and the materials and compounds which make up commercial truck tires has come a long way over the years, as has the use of aluminum wheels which has changed the dynamic of the tire and wheel assembly.
"In most instances, commercial truck tires do not need to be balanced," he says.
Webb says it is customary to check tire and wheel assembly balance if the driver makes a ride complaint. While the driver usually experiences vibrations through the steering column or the seat, it is often difficult to determine where the actual issue originates.
"Michelin recommends that before removing the tire and wheel assembly from the vehicle, the radial and lateral runout be checked by a professional technician," he adds. "Bent wheels, improper mounting, or flat spotting can cause excessive runout. If balance is still required, a simple static balance with bubble balancer or a wall mounted axle bearing and hub type gravity balancer should be sufficient."
"Today, many fleets do not balance the tires," Webb says. "With tighter uniformity standards in manufacturing, tires, wheels, hubs and drums do not need routine balancing."
Jessee calls the idea of not balancing commercial truck tires a myth handed down from previous generations when most trucks had Dayton or spoke style wheels outfitted with bias ply tires.
"Back then it was believed to be a waste of time and resources to balance truck tires," he says. "This is the generation that started the phrase 'it rides like a truck.' By the time the Budd wheel evolved, then radial tires for trucks became most common, the myth and the phrase had stuck."
Jessee says "visible and controllable forces" that include misalignment; worn suspension parts; worn or incorrectly torqued bearings; incorrectly mounted tires; and incorrect air pressure cause premature tire wear. Imbalance, he adds, is an "invisible and also controllable force that is consequently ignored by many."
"Credible data indicates if a fleet owner neutralizes all the visible forces above and ignores the invisible force – imbalance – he will be wearing out his tires prematurely at least 25 percent faster," Jessee says, noting the opposite is also true. "If a fleet owner neutralizes the imbalance and ignores the visible forces above he will also be wearing out his tires prematurely. All the forces, visible and invisible, must be neutralized to get maximum life out of his tires."
Today, the perception of balancing is changing as goals for lower operating costs take center stage, and Forney says fleets are increasingly looking at tire balancing to not only improve tire life, but also improve fuel efficiency by up to 2 percent.
"To do so, they are finding more time efficient methods or are spin balancing despite the time factor," he says, adding before EQUAL was introduced 25 years ago, spin balancing with wheel weights was the only option.
Weltzbarker says he's already seeing a tire life improvement of about 30 percent from balancing alone.
"Before, we were getting about 50,000 to 55,000 miles," he says. "With balancing, we're up to about 80,000 to 85,000."
With the increased usage of less durable low rolling resistance tires, fleets have seen a reduction in tire mileage, but Forney says balancing can not only optimize the fuel efficiency of low rolling resistance tires, but also maintain normally expected tire life.
"When there aren't perceived problems, fleets aren't maximizing the value of the tires or fuel," he says. "By increasing tire mileage by 25 percent or more, and increasing fuel economy by 2 percent, fleets can save $5,500 per truck per year."
By not balancing a wheel end, a fleet can lose upwards of 20-25 percent of potential tire life, Forney adds.
"Tires are often pulled prematurely due to irregular tread wear," he says.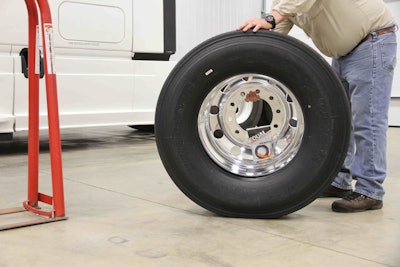 For example, while one part of the tire has 6/32nds, another may have 3/32nds. The tire is then retreaded or removed from service. Forney says fleets typically see a 20 to 40 percent increase in tire mileage from balancing, adding a 2012 tire life study conducted by a large fleet documented 20 million miles and showed a 25 percent increase in tire mileage from balancing with EQUAL.
"With EQUAL FLEXX, tires wear evenly across the footprint, so the tire can stay on the truck longer and achieve the maximum tire mileage possible before it reaches its pull point," Forney says. "This is comparable to an under-inflated tire, which may reduce tread life by 20 percent."
Forney says EQUAL FLEXX should be recommended for all wheel positions to maximize tire life and fuel savings.
"The steer position typically generates 18 percent of a trucks tire-related rolling resistance, while drive tires produce an additional 40 percent and the trailers make up the remaining resistance," Forney says. "Not only are there significantly more tires that can benefit from improved wear behind the steer axle, but they also generate the great majority of the fuel savings opportunity."
Based on current tire and fuel costs, Forney says the steer axle can provide $1,000 in savings while the drive and trailer axles offer $4,500 in savings.
Manges and Gary Schroeder, director of commercial vehicle and global OEM sales for Cooper Tire & Rubber Company, assigned to the Roadmaster brand, agree that Technology and Maintenance Council's (TMC) Recommended Practices Manual is a good resource for balancing tires, but Schroeder notes it does not recommend a single approach.
"The approach to balancing will vary based on the specific application the tires are being used for," he says. "For instance, balancing steer tires for a regional waste haul truck will vary from balancing steer tires for a long-haul truck."
Specifically, Schroeder and Manges say TMC RP 214D (Tire/Wheel End Balance and Runout) and RP 648 (Troubleshooting Ride Complaints) are valuable tools in making tire balancing decisions.
Eggen says his preference to balance was based on his understanding that a truck that just rolled off the assembly line wasn't perfectly balanced and road ready.
"When a tire is mounted on a wheel, and the wheel assembly is mounted on a truck, it now has an out of balance – known as the heavy spot – which is different than the heavy spot of just the tire or wheel alone," Forney adds, adding the drop-in product EQUAL FLEXX balances the entire wheel end by automatically shifting the necessary opposing force to offset the uneven weight, allowing the tire to roll evenly down the road.
"A commercial truck tire will lose roughly 30 pounds of tread during its life. As the tread wears, stones are picked up in the tread or other factors change, EQUAL FLEXX will automatically adjust to the ongoing conditions," he says. "This creates a continuously balanced wheel assembly and a more even tire footprint, leading to increased tire mileage."
As a side effect, Forney says, EQUAL FLEXX also reduces vibrations through dampening.
"Left unchecked, vibrations cause tires to wear prematurely," he adds. "EQUAL FLEXX provides 15 percent more vibration reduction than EQUAL and 60 percent more vibration reduction than wheel weights."
The EQUAL FLEXX composition, Forney says, has been specifically designed to optimize vibration reduction and balance the tire and lasts for the life of the tire. Any time a tire is removed from the wheel, however, it should be replaced.
"Changes in the amount or ratio of EQUAL FLEXX during tire breakdown may diminish performance," he adds.
Centramatic is an onboard balancer that mounts on the hub before the wheel, which Jessee says not only balances the tire, but also balances the complete wheel assembly permanently and continuously.
Unlike drop-in solutions, Jessee says Centramatic is portable and can be removed and installed on another truck in the same application.
"Because you can reuse the product, I can retire a unit and put them on another unit as long as it's in the same application. Basically, it's once and done," Weltzbarker says. "With spin balancing, you're doing it every single time you change that tire. If you're pulling the tire off, [Centramatic is] very easy to put on and off. If I spin balance, I've got to take the tire off and send to another location. I'm two or three days waiting on that."