Editor's note: This post is part of CCJ's ongoing coverage of the launch of the 2018 Freightliner Cascadia, unveiled Wednesday. Click here to see CCJ's coverage of the tractor's unveiling.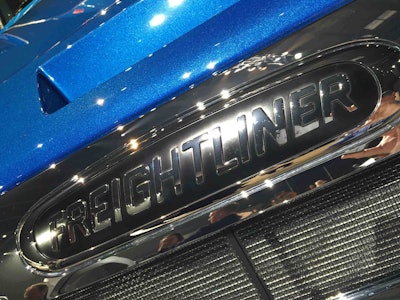 "A rose by any other name would smell as sweet."
That's a quote my high school literature teachers said is somewhere in Romeo & Juliet. I took their word for it.
This week, Freightliner launched the newest rose in its truck lineup with the 2018 Cascadia.
It's not uncommon for heavy truck models to be phased out when a technologically superior model comes along. International is in a product replacement cycle that will see many of its 'Star' branded trucks replaced with newer models and branded differently.
The Kenworth T680 is in the process of ushering the T660 out to pasture.
Freightliner's aero-champion Cascadia could have faced a similar fate once a newer model was built that could surpass its performance. Except it didn't.
Richard Howard, senior vice president of sales and marketing for Daimler Trucks North America (DTNA), says very little consideration – like none – was given to re-naming the company's most efficient truck when an even more efficient model hits the highway early next year.
His stance on the subject is very matter of fact. Cascadia has been the efficiency leader. This is not changing. Neither is the name.
"In our heart of hearts, I think we always knew it was going to be Cascadia," adds Mary Aufdemberg, director of product marketing for DTNA. Aufdemberg, who was on the team charged with the name, says there was a list of alternatives but clearing the hurdle of rebranding the company's preeminent highway tractor never made much sense.
DTNA has long used its Cascadia as the wrapper for the company's newest and most efficient products. It was essentially the flagship product to initially feature the DT12 automated manual transmission and Detroit drive axles – making the Detroit Integrated Powertrain a thing.
The next generation Cascadia will bring with it yet more handfuls of new technology and innovations, keeping its place at the head of the line for bringing such things to market for Freightliner.
Not changing the name capitalizes on all the fuel efficient brand equity Cascadia has built, and continues to build.
New Cascadia versus old. Classic versus next generation. Call it whatever you want as long as you call it Cascadia.