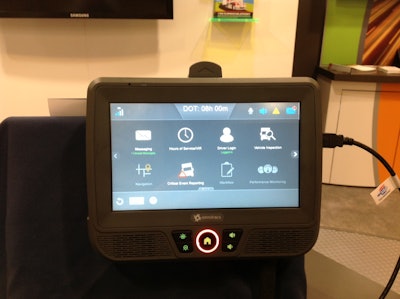 Omnitracs, a fleet management software provider to transportation and logistics companies, announced the ELD Driver Retention Model, a predictive modeling platform that identifies truck drivers who are most likely to voluntarily leave their jobs.
Omnitracs ELD Driver Retention Model uses the extensive data that companies are already collecting through electronic hours-of-service (HOS) applications to detect subtle changes in driver habits, which can then be key indicators of their desire to voluntarily leave their jobs.
In 2015, industry-wide driver turnover reached 95 percent. Google estimates the cost of onboarding to be around $5,000 per new driver. Omnitracs says the ELD Driver Retention Model gives fleet owners and managers information to engage at-risk groups with targeted remediation programs and reduce turnover in the highest risk groups by up to 80 percent.
"The Omnitracs ELD Driver Retention Model allows fleets of all sizes to reap the benefits of predictive modeling to prevent driver turnover and address the root causes of voluntary termination," said Brad Taylor, Omnitracs vice president of data and IoT solutions.
These individual driver logs produce more than a thousand pieces of data related to hours worked, customer site delays, lack of hours and amount of activity on the clock. The ELD Driver Retention Model can also leverage HOS data generated by competitive solutions.
The ELD Driver Retention Model is the first of a suite of solutions from Omnitracs to help the fleet management industry capitalize on the Interstate of Things — Omnitracs' vision for the industry to capture, understand and manage data created from the connected devices in the entire transportation industry including trucks, streetlights and toll roads, in order to make more efficient, data-driven decisions.
Omnitracs says it also arms users with the knowledge and techniques to manage fatigue at the driver and organizational level. Truck drivers who attend sleep classes and participate in intervention programs consistently show improved productivity and safety outcomes. Those drivers are also 30 percent less likely to voluntarily terminate their employment, have half as many loss-of-control accidents and five times fewer "run-off-road" accidents, compared to drivers lacking sleep education.
Omnitracs ELD Driver Retention Model was designed for any size fleet using electronic HOS management applications, and is available now.