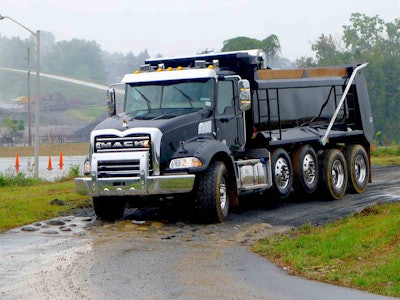 I learned how to drive on a stick shift. I like driving with a stick.
But not in a Class 8 truck, which is where I found myself two weeks ago, standing on the brakes of a Mack Granite dump truck, nose pointed downhill, holding 70,000 pounds of gravel against the law of gravity. My job was to put the truck in reverse and back up the hill.
Nervous? No, but attentive, for sure.
Did I mention it had been raining all morning?
Fortunately, this truck had Mack's new mDrive HD 14-speed HD automated manual transmission (AMT), which was the point of the whole demonstration.
In the passenger seat beside me Tim Wrinkle, construction product manager for Mack, talked me through the procedure. Push "R" on the dash. Select the extra low gear with a few taps on the +/- button. Let off the brake. Give it some gas (diesel in this case).
With only these four things to remember, I did as told and almost—like a miracle—we levitated back up the hill in reverse and across a patch of soft gravel at the top. No problem.
Carrying a fully loaded Class 8 dump truck backwards up a hill isn't the kind of application you'll see often at any jobsite. But the ease with which I was able to accomplish the maneuver proved the point Mack was making—that with an AMT you can put a novice or inexperienced driver in a truck and still get good productivity and performance. This is especially true in difficult conditions.
Highway haulers only have to contend with pavement, wet or dry, but vocational trucks are faced with mud, soft ground, uncompacted gravel, steep hills and uneven terrain. Driving a manual transmission in these conditions requires the kind of experience that's becoming increasingly hard to find as older drivers retire. With the AMT, the driver simply pushes a button on the dash and the truck's electronics and sensors choose the best gear for the situation.
Mack announced earlier this year that the mDrive HD 13-speed AMT will now come standard on 2017 Mack Granite, Pinnacle and Titan models. The mDrive HD 14-speed tranny in the truck I drove offers an overdrive configuration and adds a second ultra-low-speed reduction gear for applications such as curb pours for concrete trucks and heavy-haul maneuvering.
Low-reduction creeper gears and multi-speed reverse gears are enabled by a short extension on the front of the transmission case and help move the trucks they are in from a standing start on steep grades or when carrying heavy loads. The two new transmissions are relatively unobtrusive, adding only five inches and 90 pounds to the driveline.
My test truck had a 445-horsepower engine putting out 1,860 foot-pounds of torque moving a GVRW of 69,850 pounds. But all that capacity does you no good if you're spinning the tires, rowing around for the right gear or sinking into the mud; and that's exactly the scenario Mack mDrive is designed to defeat.
This particular ride and drive was held at the company's proving grounds in Allentown, Penn. The short track came with steep hills, a mud pit, two different gravel pits (large and small aggregate sizes), and a few other obstacles; in short: every challenging situation a vocational truck is likely to encounter. Yet a half dozen times around the course I never had to do anything more complicated that tap the F-N-D switch, steer and gently work the accelerator pedal. Never once did I get that we-are-about-to-get-stuck feeling in the pit of my stomach.
Currently, automatic transmissions claim only about 20 percent of the market share in heavy-duty vocational trucks. But most manufacturers say that figure will grow due to the driver shortage and the ease with which the automated models can be driven. And it may be hard to prove, but it is reasonable to conclude that automated transmissions improve safety. A driver with fewer distractions is a safer driver.
This spring Mack introduced its 2017 engine lineup with improvements in fuel economy and power. Mack claims fuel efficiency gains of 2.1 to 8.8 percent over prior model year engines. The MP7 11-liter and MP8 13-liter engines feature an updated wave piston design that boosts the compression ratio for more thorough combustion plus a common rail fuel system for more precise fuel injection. A two-speed coolant pump also aids fuel efficiency.
Mack also mentioned in our press briefing that they now have 49 Certified Uptime Centers, a program they first announced at the World of Concrete in February.
About the author: Tom Jackson is the Executive Editor of Equipment World, a sister publication of CCJ.