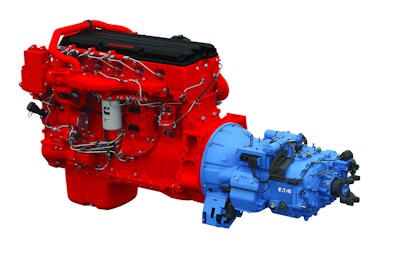 The SmartAdvantage powertrain portfolio will add a higher torque capacity Eaton and Cummins announced jointly at the 2016 American Trucking Associations (ATA) Management Conference & Exhibition in Las Vegas.
The expansion of the SmartAdvantage powertrain now includes a new transmission model with 1,850 lb.-ft. torque capacity offered for linehaul applications operating with GCVW ratings of up to 80,000 lbs.
Alex Stucky, product strategy manager, commercial powertrain, Eaton, says the 1,850 lb.-ft. rating has been added to improve grade capabilities and acceleration while broadening the downsped SmartAdvantage powertrain offerings.
"It will provide superior performance on grades and highway on-ramp entrances," he says.
The SmartAdvantage powertrain will be offered as a multi-torque model that is compatible with Cummins SmartTorque2 functionality available in ISX15 SA and X15 SA engines rated up to 500 HP and 1550/1850 lb.-ft. of torque. As with all current SmartAdvantage powertrains, this newest addition will not require the use of a transmission cooler.