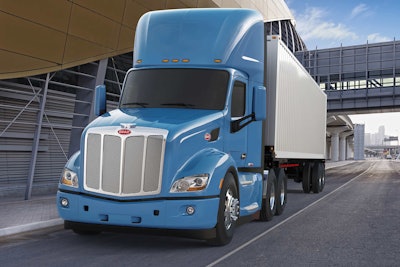 Peterbilt announced the availability of the Model 579 EPIQ spec in a day cab configuration that the company says can provide up to a 14 percent improvement in fuel economy. In the spirit of the EPIQ spec found on Peterbilt's sleeper models, the day cab 579 EPIQ features a three-piece collapsible roof fairing, chassis fairings with rubber skirts and rubber closeouts, front wheel closeouts and fender liners, a three0piece aerodynamic bumper and bumper air dam with bumper-to-hood seals.
"The 579 EPIQ day cab will hold high appeal for fuel-conscious customers in tanker, bulk, regional haul applications in what has been an underserved market until now," said Darrin Siver, Peterbilt general manager during a press conference at the 2016 American Trucking Associations Management Conference & Exhibition in Las Vegas.
All aerodynamic options are available from the factory, and customers also can order components through the dealer for aftermarket installation. The 579 EPIQ day cab is available with either the MX-13 or MX-11 engine depending on application.
Other features of the 579 EPIQ day cab include low rolling resistance tires, SmarTire tire pressure monitoring system and single horizontal exhaust configuration.
New Paccar axle standard on certain models
Peterbilt also announced the new Paccar tandem drive axle will be standard on all Peterbilt 579 tractors spec'd for line haul applcations.
"The axle is a perfect match for Peterbilt Model 579s powered by Paccar MX engines," said Siver. "It is a perfect combination for our line-haul customers that will help them reduce operating costs through improved fuel efficiency, greater uptime and more payload."
SmartLINQ improvements
Siver also announced several improvements to Peterbilt's SmartLINQ remote diagnostics system, including reasoning technology and the new SmartLINQ Service Management solution, for which the company partnered with Decisiv.
SmartLINQ's reasoning technology collects and analyzes engine information and uses machine learning to make associations between triggered diagnostic codes, which Siver says allows technicians to more efficiently and accurately diagnose and solve service issues.
The SmartLINQ Service Management provides customers with real-time access to the status of truck repairs and service being performed at Peterbilt dealerships. The system uses real-time dashboards, alerts and reports. All service steps are date- and time-stamped, providing service event history for each truck.
"SmartLINQ provides customers with instant, complete remote diagnostic information," said Mike Conroy, Peterbilt's director of field service. "SmartLINQ Service Management gives customers that same convenience during the service process, letting them manage it more efficiently."