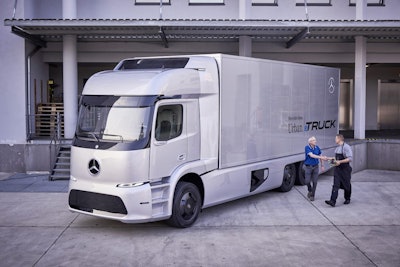 During a press event on the eve of the IAA 2016 commercial vehicle show in Hannover, Germany, Daimler Trucks showcased its future urban transportation strategy with the unveiling the Mercedes-Benz Urban eTruck and Mercedes-Benz Future Bus concepts, as well as a demonstration of its previously announced Mercedes-Benz Vision Van.
"By 2050, cities will be home to more than 70 percent of the world's population, and more urban transportation is required- for goods and for people," said Dr. Wolfgang Bernhard, head of Daimler Trucks & Buses. "This creates challenges regarding emissions, noise, infrastructure and congestion. We are developing vehicles of a completely new kind."
World's first electric truck
After introducing its electric drivetrain concept in July, Daimler completed the picture with the introduction of the Urban eTruck, an all-new electric truck concept for short-radius, zero-emissions goods distribution. The eTruck has a 200-km range on a single charge and has payload capacity up to 12.8 tons. According to Sven Ennerst, Daimler's head of project engineering, the eTruck's lithium ion batteries can recharge within two hours.
At the heart of the Urban eTruck is Intelligent Range Management, a system that allows the driver and fleet manager to optimize delivery routes by monitoring the vehicle's real-time data, traffic conditions, and other data from Daimler's existing FleetBoard telematics service, which now connects to the drivetrain.
When the dispatcher sets up route for delivery, all details go into IRM, which predicts energy needed and suggest the optimal driving mode. The driver has two 12-inch screens on the console. The primary screen provides data such as vehicle speed, speed limits, and real-time data on the actual battery status compared to the IRM's predicted range at that point in the route.
"This pair of scales is a powerful tool because it builds trust," says Ennerst. "We want to provide absolute certainty to the driver that he can reach destination as planned." If something unexpected happens, such as a traffic jam, the IRM saves energy by changing the driving mode or scheduling a charging period at a delivery point along the route.
The eTruck takes design cues from the Mercedes-Benz Antos cabover, but the electric drive eliminates the need for a conventional air inlet, which is replaced by a LED-backlit black panel grille capable of displaying battery charge status, truck operating status and more.
The eTruck's low-floor axle has liquid-cooled, high-speed asynchronous three-phase motors on each side with as much as 11,000 Nm, providing what Daimler says is diesel truck-like driving dynamics.
The Urban eTruck also has smart technology to optimize power consumption. "We are thinking beyond hardware and how to connect the truck to the grid," said Bernhard. "Our new truck-to-grid management provides customers that would have multiple eTrucks with an optimized charging strategy or even earn money by allowing stationary vehicles to provide energy services that can generate income."
Future Bus is built on Daimler's Highway Pilot
The semi-autonomous Mercedes-Benz Future Bus relies on Daimler's CityPilot system, which was built on the foundation of the 2015-announced Highway Pilot autonomous driving system but adds additional functions to communicate with traffic lights, traffic flow patterns and pedestrians. The Future Bus was developed on the existing Mercedes-Benz Citaro platform.
The CityPilot system uses more than 10 cameras to scan the road and surroundings to provide a precise picture so the bus can operate safely in urban environments. If wireless connection to traffic lights is interrupted, the system reverts to cameras for visual recognition.
The Future Bus interior features a completely reimagined open-area transit experience for passengers, including a lounge at the back of the bus for longer journeys in what Daimler refers to as an urban living space.
"Operators gain from lower total cost of ownership thanks to improved fuel efficiency," said Harmut Shick, head of Daimler Buses. "Passengers will be safer and more comfortable and arrive on time. Drivers will experience less strain."
While the Future Bus is in concept stage, Daimler already announced it will launch an all-electric bus by 2018 based on Mercedes-Benz Citaro. "Our focus is to make it ready for serious production and to offer a product that makes a valid business case for customers," added Schick.