Chris Gallup describes the information systems of OrTran, pre-2015, as "in the Stone Age."
"We were fragmented. We didn't have our systems integrated and we muddled through," says Gallup, chief operating officer of OrTran, an asset and non-asset truckload transportation provider based in Kansas City, Mo.
"What we were extremely good at was putting out fires," he continued. "We realized we were arsonists. We put out a fire and celebrated it."
Gallup and other managers at OrTran attended a TMW Systems user conference in 2014, in Nashville. That was when a decision was made to "become the poster child of Trimble," he says.
In the last five years, Trimble has become the largest technology supplier in the transportation and logistics space. It accomplished this by acquiring PeopleNet in 2011 followed by TMW Systems in 2012.
In the last year, OrTran began using the systems it has from Trimble — TMW Suite, TMT Asset Maintenance, and the PeopleNet mobile platform — in the way they were intended to be used: in an integrated fashion, he says.
Last year, the company added a business intelligence platform, TMW Data Warehouse, and gained enterprise-wide visibility of its key metrics and discovered new insights.
OrTran is now "80 percent" automated, Gallup says, with more yet to go. In the past year, its overhead costs are down $250,000 per month; fleet maintenance costs have fallen $75,000 per month; and its overall cost-per-mile has dropped by $0.09.
On Monday, Sept. 26, OrTran was one of several fleets recognized at the inaugural joint user conference of TMW and PeopleNet, Trimble In.Sight.
By coming together, TMW and PeopleNet are creating unique products and capabilities for asset and non-asset transportation and logistics customers. That was part of the message delivered on Sept. 26 by Brian McLaughlin, president of PeopleNet, and Dave Wangler, president of TMW Systems.
While speaking to an estimated crowd of 2,400, the two described a Trimble vision to "transform the way the transportation industry works" and made several new product announcements.
Wangler called a new Trip Insight product a "game changer" as the transportation industry's first "comprehensive journey management" application, he said.
Trip Insight is a software-as-a-service (SaaS) that lives in three places, simultaneously: a multi-tenant server in the cloud, the ALK CoPilot Truck navigation application on PeopleNet devices, and the TMW Suite transportation management system.
A demonstration of the new functionality was given to CCJ by Bill Nimchuk, senior product manager at ALK Technologies, another Trimble company.
Within TMW Suite, Trip Insight — when activated — appears as a tab module in TMW Operations, the program fleets use for their load-planning and dispatch workflow.
By clicking on the Trip Insight tab, a planner sees an optimized trip plan for the selected driver with ETAs for each stop, in sequence.
"Starting with a standard dispatch, Trip Insight builds comprehensive, optimized trip plans that account for everything — fuel stops, hours-of-service rest breaks, historical traffic, vehicle and load specific route restrictions, and more. It's all there," Wangler said.
Once a dispatch assignment is finalized, the optimized trip plans are sent to PeopleNet devices. Drivers see pickup and delivery stops with the best options for mandatory rest breaks and fuel stops.
The ETAs for each stop are visible to drivers and fleet managers. They change dynamically as the planned route progresses, and as real-time traffic and weather data from ALK are brought into the calculations.
Trip Insight also calculates PTA, the projected day and time that drivers will be available to start their next dispatch assignment.
Trip Insight will be available for commercial release in the first quarter of 2017, Wangler said, but only to fleets customers that use TMW Suite, PeopleNet and ALK CoPilot.
Trip Insight will not be available to fleets that use a dispatch or mobile platform not from Trimble, at least not for the time being.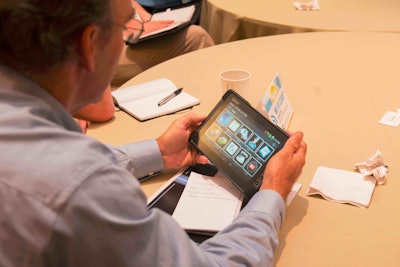 "What we do with it going forward really is dependent on the market," he said. "At this time next year we will report back."
Hanke Trucking, a Slinger, Wis.-based bulk transporter, will not be among the early adopters of Trip Insight. While it uses TMW Suite, its current mobile platform is a competitor to PeopleNet.
After listening to McLaughlin and Wangler talk about the Trimble vision and products, Richard Hanke, Jr., operations manager, told CCJ he will not be switching to PeopleNet from its current solution — at least not yet.
"I would hate to throw all my eggs in one basket, but they sure make it appealing," he said.
During the In.Sight conference, TMW and PeopleNet made a number of new product announcements that will be published in separate articles as the conference runs through Wednesday, Sept. 27, at the Opryland Hotel in Nashville, Tenn.