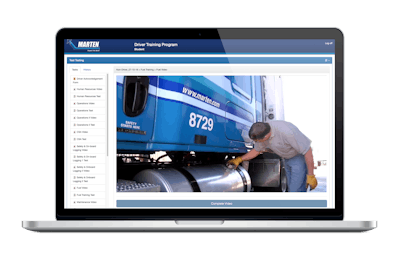 EBE Technologies has enhanced its Learning Management System (LMS) to automatically schedule move-specific training based on dispatch activity. The activities that can trigger the training include customer, commodity or stop codes.
Lessons are scheduled for drivers in real-time based on either a pre-planning or move acceptance activity, the company says, which provides enterprise automated decision support (ADS) applications for the transportation and logistics industry,
EBE's LMS monitors the dispatching system for shipper codes, commodity codes and stop codes. Based on the combination of such codes, a determination is made if "special instruction" are associated with the move.
The training can assist drivers with arriving or departing from a specific distribution center or shipper location to improve efficiencies and make the driver's experience is more positive, the company says.
Cargo securement training, for example, can be based on commodity code or specific packaging instructions as provided by the shipper. This could result in reduction in claims for higher profitability, driver and customer relations.
"Carriers make significant investments in helping drivers navigate to stops efficiently, but once they arrive, there has not been a solution to help them navigate the specifics of the location or the freight for which they will be responsible," says Larry Kerr, president of EBE. "Dispatch-driven training now provides that service."
Integrated to EBE's Connect Mobile Capture (CMC), drivers can also take photos of secured cargo for review in an auditing workflow. Those photos can then be made available through a customer web portal so that the shipper can review load securement standards.