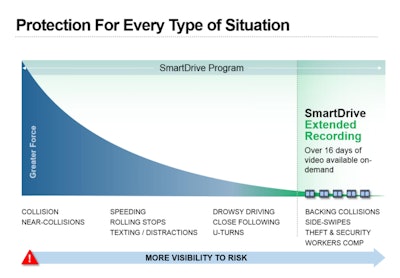 SmartDrive Systems announced in a press briefing Tuesday the availability of new add-ons within its video and safety intelligence platform, plus updates to its existing platform available to all subscribing fleets. The new capabilities target what the company calls high priority areas for fleets, delivering on the top requests from existing customers and providing new levels of productivity and protection.
New reach for the Extended Recording service
SmartDrive has doubled the storage capability to approximately 16 days of video for fleets opting to enhance SmartDrive's basic G-force-activated event capture and coach video platform, available by enabling the retrieval of non-G-force video events with the Extended Recording feature. Extended Recording "has been available for some time and growing very rapidly," says Vice President of Product Management Mark Freitas. It's available in varying subscription and per-video-ordered bases.
The video context provided around non-G-force events helps fleets "understand a variety of different situations," Freitas says, including thefts, workers compensation claims, driver compliance with company policy and minor accidents such as side-swipes that may not otherwise trigger the camera. The last of these is evident in the following video shared during the presentation. The oncoming motorist crosses the center line and just side-swipes the trailer.
"It's a low-g-force event but something that Extended Recording is able to get for the customer," Freitas says. In this case, the motorist at fault "decided not to stop and the video supported the police investigation. The police were able to get the driver within the hour for the investigation."
Extended recording, too, can allow fleets to extend the viewing period before and after particular events to broaden context, enabling something of a virtual ridealong, reps say, and provide a map view as well to clarify time and place of events if inaccessible for any reason — such as being forgotten "by a flustered driver," Freitas added.
Accessing this SmartDrive capability does not require a costly "rip and replace" of existing hardware and back-end systems. Leveraging the platform's open, extensible architecture, all of the enhancements are available to customers within their existing solution footprint. As fleets evaluate solutions, driving adoption, accelerating time-to-insight, and expanding the ways that video can impact operational performance are important considerations that are rising to the top of their buying criteria. This new release builds on best-in-class usability and industry first protection to deliver additional, measurable value to customers.
Improved back-office coaching workflow
Available now to all SmartDrive platform subscribers, the company says, are recent enhancements to its coaching workflow, utilized by back-office managers to prioritize events for driver coaching and instruction.
"The new workflow is very easy to use. Allowing coaches to coach our drivers on skills that need to be improved or on individual events helps them focus on what's important to that individual driver," notes Paul Ross, vice president with America Waste Control.
Enhancements include:
Usability improvements, optimizing the coaching process and time spent while maximizing the impact of driver coaching sessions;
Integrated contextual performance metrics throughout the coaching workflow puts the "key performance indicators" of SmartDrive's transportation intelligence service front and center for coaches;
Driver scorecards with trended performance data, coaching history and peer benchmarking pinpoint areas for improvement and facilitate productive coaching sessions;
"Prep Mode" provides an easy-to-use workflow to facilitate coaching preparation, enabling coaches to add notes for review by colleagues if necessary or give "kudos" for outstanding driving performance
Skills-based or event-based coaching options provide the flexibility to individualize sessions to the needs of the coach or driver.
"The integrated metrics and driver scorecards clearly show where an individual driver stands against his or her peers," says Jerry Peterson, Bulldog Hiway Express safety manager. "Showing them the metrics, coupled with the video, immediately adds credibility to the discussion with the driver."
Platform access, too, has optimized for mobile devices with recent updates, SmartDrive says. Shopping-cart functionality allows fleets to order extended recording or on-demand video immediately when needed or schedule in advance, track the order and receive email status updates.