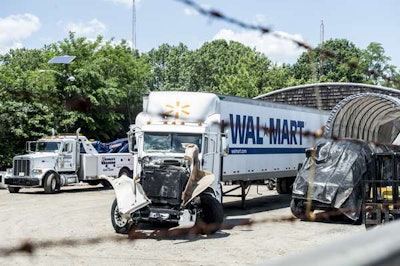 Kevin Roper, the truck operator involved in the high-profile 2014 New Jersey Turnpike crash that killed comedian James McNair and severely injured actor-comedian Tracy Morgan, has agreed to a deal with the state of New Jersey to avoid jail time and have his record cleared of the vehicular homicide charges stemming from the crash. Roper could have faced up to 30 years in prison, based on the charges against him.
Roper's attorney, David Jay Glassman, says Roper agreed Nov. 29 to enter a so-called Pre-Trial Intervention Program, a resource aimed at first-time offenders with no criminal history. Glassman says the program lasts three years, in which Roper must, among other requirements, complete 300 hours of community service and "stay out of trouble," Glassman says. The state will drop Roper's indictment and his record will be expunged if he successfully completes the PTI, Glassman says.
Federal crash investigators claim Roper fell asleep at the wheel of the Walmart fleet tractor-trailer he was driving on the morning of June 7, 2014. The National Transportation Safety Board alleges Roper had been awake nearly 25 hours prior to the crash, having commuted in his personal car from Georgia to New Jersey the night prior before beginning work. Roper was traveling about 20 mph over the posted 45 mph speed limit in a construction zone when he rear-ended the Mercedes-Benz Sprinter van carrying Morgan, McNair and several others.
Roper pleaded not guilty in June 2014 to charges of vehicular homicide, aggravated assault and aggravated manslaughter. He was indicted last December 2015 and again pleaded not guilty in February 2016.
Glassman says to enter the PTI program, Roper had to change his plea to guilty. But that plea "will be held," Glassman says, and will later be dismissed if Roper completes the program.
Walmart and its private fleet have settled the civil suits brought against it by the crash's victims, including McNair's family, Morgan and four others involved.