Matthew Hurley has been dreaming of an electric semi-truck for more than 10 years. As a truck driver, he has been thinking of what one might look like and how it would work.
Hurley, an owner operator leased to Nashville, Tenn.-based New Waverly Transportation, is currently strapped with a monthly truck payment of $1,000 and is spending $1,000 per week on fuel. He is doling out $1,700 per month, on average, to maintain his aging diesel-powered tractor.
He read an article earlier this year about Nikola Motor Company (NMC) and its founder, serial entrepreneur Trevor Milton. NMC has been developing an electric semi-truck.
To see it in person, he came to Nikola's headquarters in Salt Lake City Thursday where Milton unveiled a working prototype of Nikola One, a zero emissions semi-truck that utilizes a fully electric drivetrain powered by high-density lithium batteries.
"This is far better than anything I imagined," Hurley said after the reveal. "This is way over the top."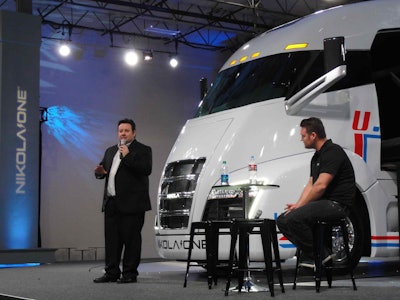 The truck's electricity is supplied on-the-go by a hydrogen fuel cell and regenerative braking, giving it a range of more than 1,200 miles while delivering over 1,000 horsepower and 2,000 ft. lbs. of torque.
Wait a minute. A zero-emissions electric truck that runs on hydrogen, one of the most abundant and renewable energy resources? And with double the horsepower of conventional diesel trucks?
"This is a real truck. This is not a pusher," said Milton. "My goal is to literally revolutionize the trucking industry."
Sales, service and fuel
During the unveiling of Nikola One, Milton announced a partnership with Ryder System to offer the vehicle to owner-operators and fleet owners through a full-service, 72-month lease that will include unlimited, nationwide hydrogen fueling.
The monthly lease will be between $5,000 and $7,000, depending on options, he said.
Ryder System, Inc., will serve as the exclusive distribution and maintenance provider for NMC, unlocking Ryder's North American network of more than 800 service locations to lessors and owners of the Nikola One tractor. It will provide sales, service and warranty coverage for NMC as it looks to build out a support network for the hydrogen fuel cell, electric-drive truck.
To supply the hydrogen, NMC is building a fuel network with 364 locations planned nationwide, Milton said. Construction will start in 2019 and the location of the planned sites are now available on its website.
Improving safety
The Nikola One has new safety features not available on other vehicles. Hydrogen is a safer fuel than gasoline and diesel, Milton said. "You just have to store it right."
With its electronic drive train, Nikola One can apply power and braking to wheels 15 times faster than diesel-powered trucks and is 2,000 pounds lighter. Steering and handling is improved by a torque vectoring system that controls the speed of every wheel.
The vehicle reduces the possibility of injury with a low, mid-cab entry. Its center of gravity is nearly three feet lower than a conventional diesel and the lithium batteries are built into the frame rail, reducing the risk of rollovers.
The independent wheel suspension system, the frame stiffness and soft ride are unmatched by other trucks on the market, he said. NMC partnered with Meritor to develop the frame and suspension.
The vehicle comes equipped with 12 cameras for a panoramic view of the vehicle in the cab and has a built-in radar for collision avoidance and mitigation.
To build the vehicles, NMC partnered with Robert Fitzgerald, whose company currently builds between 6,000 and 9,000 glider trucks a year. Robert Fitzgerald is contracted to build the first 5,000 Nikola One vehicles.
NMC is currently in discussions with several states to build its own manufacturing facility, Milton said. The announcement for the manufacturing facility will be made in mid-2017 and construction will be complete within four to five years, he said.
Besides offering a full-service lease and nationwide fuel network, Milton said NMC will also be "100 percent vertically integrated" for routing and load optimization. Through its in-cab software platform and 21-inch driver display, owner operators will be able to choose loads offered by freight brokers and optimize their truck routes.
Pre-orders rolling in
Jay England, chief executive officer of Salt Lake City-based Pride Transport, was one of many fleet owners and executives at the event. Pride Transport has five trucks on order and plans to use the full-service lease arrangement from Ryder System, he said. Owner-operator Matthew Hurley said the monthly lease payment from Ryder will be less than his current monthly operating costs of $6,700 for a brand new truck.
Overall, NMC has nearly $4 billion of pre-orders for Nikola One, Milton said, including a large commitment from Chattanooga, Tenn.-based U.S. Xpress.
"I have no ownership in (NMC), but I can tell you I'm pretty excited about how we will accomplish this moving forward. The product is coming to the market," said Max Fuller, chairman and chief executive officer of U.S. Xpress.
U.S. Xpress expects the zero-emission, hydrogen-electric semi-truck will be a part of its fleet when the Nikola Motor Company starts production in 2020, however, company officials for U.S. Xpress say the carrier has not yet finalized a truck order.
"The Nikola One is currently in the testing phase, and the truck will likely be honed and improved over the next couple of years. Once this process has finished, U.S. Xpress plans to make the Nikola One an important part of its fleet," the company said Thursday in a statement to CCJ. "At this time, it's too soon for us to project how many we will order. This decision truly depends upon the findings from the testing phase, but we believe it will be a multi-million dollar investment once the Nikola One moves into production."
Nikola will also produce a day cab version, Nikola Two. This version will come with rear steering for an extremely tight turn radius.
"To keep this thing secret was probably the hardest thing I have ever done in my life," Milton said.