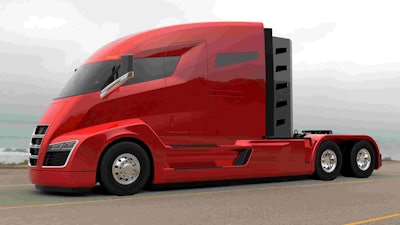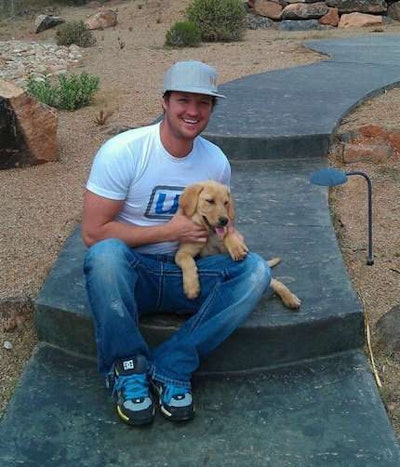 Trevor Milton has been in the trucking industry for the better part of six years, but his big break came – like a meteor through a skylight – earlier this year when he announced plans to build an electric Class 8 truck.
Milton founded Nikola Motor Company (NMC) two years ago, named in homage to engineer and inventor Nikola Tesla. With the looming December launch of its electric drivetrain truck NMC is poised to become the Tesla of trucking.
It's fitting that Milton, who has fewer than 200 Twitter followers, only follows one account – Tesla Motor Company boss Elon Musk.
Prior to establishing Nikola, Milton was CEO of dHybrid Systems, a company that made natural gas storage technology for trucking that was acquired in October 2014 by Worthington Industries.
But Milton isn't your typical trucking CEO.
A co-founder of five start ups, he considers himself a "serial entrepreneur" and is fluent in Portuguese, English and is semi-fluent in Spanish. He brings his dog to work every day.
While at dHybrid Systems, he directed the engineering team and design processes that produced, among other things, "the fastest filling receptacles ever introduced into the natural gas market."
Unlike his electric passenger car contemporary Musk, who is a graduate of the University of Pennsylvania and the Wharton School of Business, Milton didn't attend college.
"I gained all my knowledge in the real world," he says. "Working with all the different companies and it's just how I learned. Everyone learns differently and my talents for learning are in-hand. I like to learn by touching things."
Nikola burst onto the scene in May of this year with promises of a fully electric, 2,000 horsepower Class 8 truck that provided an asphalt crumbling 3,700 ft. lbs. of torque. That's Thirty. Seven. Hundred. An on-board CNG turbine was supposed to provide a range of 1,200 miles to the truck's 320 kWh battery pack.
Next came the promises of zero emissions, an attractive buzzword as the EPA unfurled its Phase II emissions regulations in August. Then came a range extending hydrogen fuel cell, which just four months following its initial announcement supplanted a CNG turbine that will no longer be offered in the U.S. or Canada on the Nikola One tractor.
"Hydrogen is more efficient and there's no emissions on it," Milton says. "It's 100 percent zero emissions. The end goal, and the desire of us, is to be 100 percent emission free."
The conversion to a hydrogen fuel cell also came with horsepower and torque downgrades. Milton says the company was forced to reconfigure horsepower output from the 800V AC motors to 1,000 and dial down torque to 2,000 ft. lbs.
"The amount of torque and horsepower we had was destroying tires," he says, adding the output comes from a change in the truck's software. "It's all software limited. The truck's still able to output that power."
Equipped with a hydrogen fuel cell, the truck kept its 1,200 mile top range claims. In addition to the fuel cell, the batteries are constantly receiving power through rotational energy via regenerative braking technology.
The decision to substitute the CNG range extender for hydrogen didn't come without risk. Milton says more than 8,000 orders were already on the books for the CNG model. Less than a month after the switch was made, Milton says feedback has been mostly positive. Cancellations were practically non-existent and were more than offset by new orders coming in.
"There's better hydrogen credits with hydrogen than there is with CNG," he adds.
The trucking industry is nothing if not traditional, and NMC is further outside the box than any other company currently building trucks. Undaunted, Milton says Nikola One will find its niche with fleets and drivers tired of chasing EPA emission standards and looking to save some money along the way.
"It comes down to your bottom line – what does it cost to operate a diesel per month," he says. "For a full-time driver it's about $8,000 to $10,000 dollars a month …With our truck, you're about $5,000 to $6,000 a month."
About 70 percent of NMC's customers are fleets, including large carriers who have ordered "thousands" of units, Milton says, adding his company's sales pitch to-date has been not making a sales pitch at all. The majority of Nikola One orders, he says, have come from customer-initiated contact.
"We don't approach anyone. They approach us," he says. "The customers we're dealing with right now are customers that have called in to us asking for a meeting for the big fleets, and the rest have just ordered online. We don't need to go make a pitch. If they don't see the value in saving billions [of dollars], I don't want to work with them anyways."
Milton says his company is currently developing the hydrogen infrastructure to support its million-mile "free fuel" guarantee, with 56 strategically positioned hydrogen stations planned across the U.S. and Canada.
There is currently a per gallon federal credit to the station owner, allowing Nikola to build those credits into the price of the tractor and give customers the pre-purchased fuel for the first million miles, Milton says.
Meanwhile, there's all those trucks that still need to be built.
"Probably three-quarters of the truck [assembly] will be done robotically," he says. "All the stamping, all the paint, the frame assembly … everything's done by robotics, and then a human comes in and finishes it up."
Milton struggles to pin down a number of people currently working on the project, but says counting employees of NMC and its partners, "it's hundreds and hundreds and hundreds."
And those hundreds and hundreds and hundreds of employees have helped push the company, Milton says, to the forefront of its segment.
"We're probably five to 10 years ahead of our competition," he adds, "and we'll start full production about 36 months from right now. I'm happy. We're booked out for many, many years and that's what everybody's dream is."
Innovations in trucking are nothing new and with diesel prices fairly low compared to recent history, NMC has its share of doubters for long-term viability. But Milton says there are plenty of differences between his company and those who may have come – or gone – before it.
"We're the only ones with actual orders," he says. "We've got orders, deposits, partners – we've got the largest partners in the world. That's the difference between us and everyone else. We have a product that makes sense and doesn't need government subsidies."
The development of Nikola One has largely been built and developed with Milton's money and funding from partners. Milton says the 8,000-plus $1,500 deposits plopped down to secure a model pre-launch is sitting untouched in an escrow account.
"Tesla actually uses people's money and deposit money," he says. "We don't. This has all been self-funded and funded by partners. We're not out there trying to get money to operate."
Milton is currently working to build the NMC sales and service network, the details of which he expects to announce in about 80 days when the sheet is fully pulled off Nikola One – an event he expects will be attended by more than 500 people, including a likely handful of naysayers.
"So many people out there called us vaporware," he says. "They're going to eat their words."