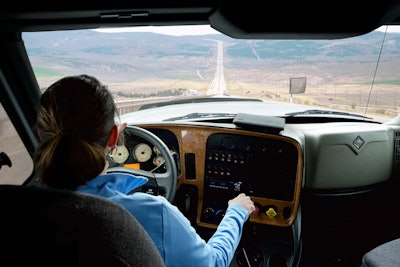 Managing driver safety, compliance and performance can be time consuming and complex with an ever-growing volume of information captured by computer systems in the cab, the office and the cloud.
More volume adds risk since important details and processes can be missed or not completed in a timely manner.
Neglecting certain driver behaviors could have an immediately impact on costs, like engine idling. Other behaviors are more predictive of financial loss like speeding or harsh braking. Should an accident occur, plaintiff attorneys will seek punitive damages by showing that management knew — or should have known — of a problem but failed to act.
CCJ recently reported on new technology that can automate the process of assessing risk and assigning remediation training to drivers. In this installment, we continue with another look at some systems fleets are using to improve driver fuel efficiency and manage a wide range of driver training needs.
A fuel coach in the cab
During the week of Thanksgiving, 2016, Bruce Ruppert drove to Palmyra, N.Y., to introduce a new technology to the 12 drivers stationed at a customer service center (CSC) of Superior Plus Energy Services.
Superior Plus Energy Services, based in Rochester, N.Y., delivers propane and heating oil to residential and commercial customers from more than 40 CSCs in the Northeast and Mid-Atlantic regions.
In the fall of 2015, Ruppert, the company's director of business development, started testing the technology, a system called True Fuel from Vnomics, in 20 vehicles operated in New York. All of the vehicles selected for the test had the worst fuel economy in its fleet.
By May, 2016, the average mpg of the trucks had increased by 4.5 percent, he says. Ruppert presented the results to management. A decision was then made to fully deploy True Fuel in all 300 trucks.
Ruppert came to the meeting in Palmyra thinking drivers would put up some resistance to using the True Fuel system.
"We spent over an hour talking to those guys and they were into it. They wanted to know 'what does my score look like and how can I do better?'" he says.
True Fuel uses a device in the cab loaded with a data model that calculates the actual and potential mpg — what a vehicle is capable of achieving. Since it knows the actual and potential mpg, it can capture the difference — the amount of fuel that is wasted or lost.
The fuel loss is mapped to the driver behaviors of speeding, idling, and engine control. In the cab, True Fuel gives drivers instant audible feedback — a distinct set of tones — when fuel use exceeds the bounds for each category.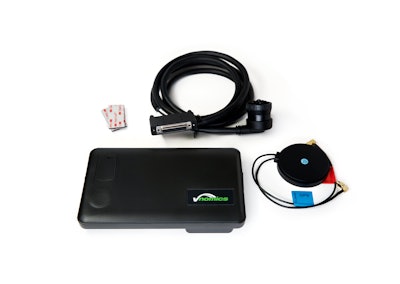 At the end of a trip (an ignition on/off event), drivers get an audible score. On a scale of 100, the score is a way for drivers to quickly assess their fuel efficiency and benchmark their efforts to improve.
For instance, a score of 73 indicates the driver could have performed 27 percent better. A driver using an automatic transmission, for example, could ease up on the pedal before reaching 1,600 RPM — before he receives an audible alert from True Fuel — to shift up while at a lower RPM and save fuel.
"What I like about Vnomics is that it teaches the driver. The last thing I need is another stack of papers to do something differently. This tells the driver 'stop doing that.' That's the beauty of it for me," Ruppert says.
At Superior Plus Energy Services, fuel savings have increased since full deployment began in the summer of 2016 to 12 percent to date. Ruppert says the company will save over 100,000 gallons of diesel annually, and has a personal goal to reach a 20 percent savings with True Fuel.
Vnomics says fleets see their mpg improve by an average of nine percent in the first 12 months of deploying True Fuel and save $160 per truck per month in fuel. This correlates to $1,920 annually per truck.
The hardware of True Fuel costs less than $300 and the monthly subscription is $30.
Training on demand
The possibilities to automate driver training go beyond fuel performance. In some instances, it might be useful to have drivers complete training before they are dispatched with a specific type of load or on a certain route.
EBE Technologies' SHIPS driver management platform can be used by fleets use to automatically assign training content to drivers based on their "out of standard" criteria for safety and performance.
For example, the criteria could include a driver having a certain number of hard braking, excessive idling, or over speed events during a week.
The platform can monitor data reported by fleet telematics and other data collection systems for the exception criteria, says Cindy Nelson, vice president of marketing and business development for EBE.
Fleets can also use the system to automatically schedule move-specific driver training based on dispatch activity. The activity could be a customer, commodity or stop code used in the dispatch process. For example, a driver who is assigned to a hazmat load (commodity) could be required to watch a short, online training video through their mobile device before picking up the load.
The SHIPS platform has a company-specific Driver Portal used by fleets to give drivers a single interface to log into and manage their training assignments and other workflow and communications, she says.
The SHIPS platform works in unison with EBE's learning management system (LMS) to assign the pre-determined training courses for each type of exception or activity. The training assigned by the LMS can be anything that is developed by a carrier or from a third party provider, Nelson says.
As the amount of real-time driver safety and performance data continues to increase, technology is helping fleets close the loop by interacting with drivers to reduce risk and enhance performance without human involvement.