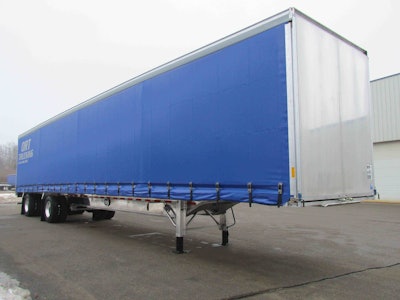 Net trailer orders hit 35,800 units in November according to FTR, soundly beating expectations.
"This was an unexpected jump in trailer orders," says Don Ake, FTR vice president of commercial vehicles. "Fleets took more time than usual to determine their 2017 requirements, but the large fleets then placed some impressive orders."
Orders were up last month 78 percent from October but 8 percent below last year's exceedingly strong order book. Ake notes November's order totals were driven primarily by fleets replacing older dry vans but adds refrigerated van orders were also strong, reflecting the continued growth of temperature-controlled freight.
Trailer orders have totaled 210,000 units over the past 12 months and backlogs jumped 15 percent, the first increase in 13 months.
"The trailer market segments continue to be highly fragmented," Ake says. "Dry and refrigerated vans, which are closely tied to the consumer sectors of the economy, are maintaining much of their strength. Flatbeds and other trailers connected to the industrial side of the economy, have fallen off significantly the second half of 2016."