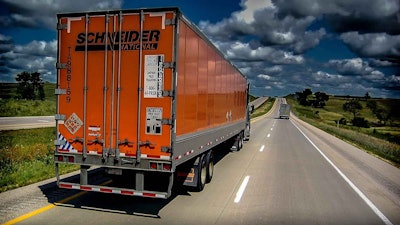 Schneider National (No. 8 in the CCJ top 250) announced late last month it has filed its application with the Securities and Exchange Commission to trade Class B common stock on the New York Stock Exchange. Schneider is — until it begins trading stock — the largest privately owned carrier in the country.
The company announced Dec. 21 it filed a registration statement with the U.S. Securities and Exchange Commission for a proposed initial public offering (IPO). The carrier would trade under the ticker symbol SNDR.
The number of shares to be offered and the price range for the offering have not yet been determined.
Morgan Stanley, UBS Investment Bank and BofA Merrill Lynch are acting as active joint book-running managers of the proposed offering, Schneider announced. Citigroup, Credit Suisse, J.P. Morgan and Wells Fargo Securities are acting as passive joint book-running managers.
The company announced intentions last year to go public in 2017, pending market conditions. Per CCJ Top 250 research, the company grossed nearly $4 billion in revenue in 2014.