CCJ Innovators profiles carriers and fleets that have found innovative ways to overcome trucking's challenges. If you know a carrier that has displayed innovation, contact CCJ Editor Jeff Crissey at jcrissey@ccjmagazine.com or 800-633-5953.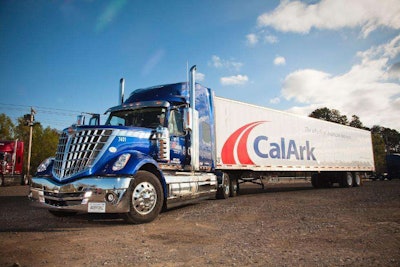 The bigger the company, the harder it becomes to keep tabs on the everyday myriad of information created by its own operations – and the possible outcomes caused by numerous day-to-day employee decisions.
CalArk International (CCJ Top 250, No. 174) realized this and was able to get in front of the additional data generated by its own growth and find ways to maximize efficiency in all of its separate service offerings while maintaining its own high standards of customer service.
The Little Rock, Ark.-based company is an irregular-route general commodities contract full truckload carrier, serving 48 states with door-to-door service and Mexico via Laredo, Texas.
"The Wheels of American Business" – as CalArk refers to itself – was founded nearly 40 years ago and today owns more than 600 tractors and 2,200 trailers. It posted more than $200 million in revenue in 2015 and has more than 1,000 employees companywide.
In 2014, CalArk was able to expand its business capabilities to include contract warehousing and distribution services by purchasing a 650,000-square-foot warehouse close to its main facility in Little Rock.
The company's warehousing customers normally fall into one of three categories: shippers needing pre- and post-production storage; transloading customers who need warehousing; and redistribution customers who need sorting, cross-docking and less-than-truckload services.
The company's warehouse management system enables it to provide the inventory management capabilities for either a dedicated or multiclient facility.
Also, by using network modeling tools, CalArk's warehousing team is able to identify optimal site locations and facilitate the layout and design for the customer's operation.
Maximizing efficiency
With a growing array of services and the additional customers they bring, CalArk realized it needed more ways to ensure it was maximizing its service potential across all of its operations.
That's what led the company to develop its own internal "Efficiency Auger." The tool was spawned from internal data mining, data warehousing and performance management concepts.
The major focus for the Efficiency Auger is to solve the problem of inefficiencies. The data tool automatically breaks down thousands of completed loads into segments that help CalArk easily identify wasted time down to the minute level, allowing the company to attack inefficiency with surgical precision.
"We can identify individual loads, lanes or customers as a whole," said Malea Still, vice president of development and sustainability.
Data can be viewed from several angles by comparing customer, load planner and driver data to each other in a ranking-style process. "We use the data to communicate with customers in an effort to keep the supply chain as effective as possible," Still said.
CalArk is able to use the information gleaned from its Efficiency Auger to solve predicted capacity issues, which in turn helps the company circumnavigate any real or perceived driver shortage, including that caused down the road by the December 2017 electronic logging device mandate.
The tool helps CalArk view the way it generates revenue differently, Still said. Using this newfound data, the company is able to drill down to rate per hour rather than just rate per mile.
"This innovation allows us to do more with less," he said.
Finding a balance
CalArk also uses a "Balance Map" diagram to explain the concept to customers on a basic level. "We take truck and load data and visually represent it on web-based map software," Still said.
The map is broken down into the company's custom three-digit ZIP codes, rather than at the state level, to match its planning regions. The map also is interactive: Users have the ability to click on different areas to see the local ratio of loads vs. trucks, as well as several other pieces of information.
The map is displayed on a large monitor in CalArk's operations floor, and it also is accessible easily by cell phone or personal computer to provide the company's traveling team members the same up-to-date information and advantages as workers in the office.
The data is refreshed every 15 minutes to give CalArk's operations group up-to-the-minute data. The map updates every time that a load is booked, a driver becomes available or an appointment is set.
This process increases operational efficiency partly by eliminating the need to manually count loads vs. trucks, thereby allowing coordinators to spend more time on decision-making.
This accurate and timely knowledge helps operations make decisions on freight demands quickly and effectively, Still said.
Customer service data
The same data-mined information also allows CalArk to keep a real-time watch on its service levels. The company takes all service-related data and places it into an internally developed and interactive "Customer Service Scorecard" to track late pickups, deliveries and resets.
The company can view these on a lane level, customer level or company level. "We address and document all late deliveries and code them according to what the root cause is," Still said. "This tells us not only that we were late, but why we are late."
CalArk counts anything past appointment time as late. The company is able to use this information to spot negative trends and address potential customer service issues before they happen.
Still said CalArk takes a proactive approach to customer service and that the company's service levels have improved significantly over the past year based on real service progress and data integrity improvements.
"We don't want to wait for a customer to send us a scorecard to tell us how we did," he said. "We want to be able to approach the customer with progress reports that show them how important servicing them is to our business."
Digging deeper
To further increase efficiencies across its operational model, CalArk also implemented a product from one of its longtime vendor suppliers, Manhattan Associates.
The tool further assists the organization in enhancing and maximizing its customer service levels. It is designed to provide a seamless workflow and additional flexibility to analyze and attack the entire operations network from any angle, Still said.
The program allows each user to see and understand the perspective of their teammates, allowing them to better unite and work together toward common goals.
"We believe in being harder on ourselves than the customer might be in an effort to provide exceptional customer service," Still said.