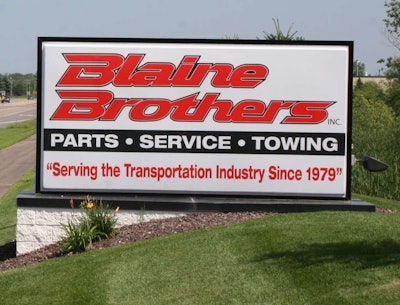 Minnesota-based truck parts distributor Blaine Brothers, founded by Rick and Fred Dally in 1979, has been named 2016 Distributor of the Year by CCJ sister site Truck Parts & Service.
Now run by second-generation owner Dean Dally, the company has four different business entities with nine locations in two states.
The company has three distribution facilities in Minneapolis, Scanlon and Clearwater, Minn., which offer medium- and heavy-duty truck parts, as well as drive in, bench, mobile and on-site service, customized fleet maintenance, a 24/7 towing and recovery unit and a sales and rental division for spotter trucks.
The locations also offer Blaine Brothers TRUCKALINE, which specializes in service alignments, frame and suspension service.
"We work on our customers' schedules, not ours," Dean Dally says. "When their trucks or trailers are down we do our darndest to address the situation quickly and get them back on the road. We know how important that is to them."
According to Truck Parts & Service Editor Lucas Deal, this is the third straight year Blaine Brothers has been nominated for the award, and this year set a record in customer-submitted nominations.
Deal's full profile on Blaine Brothers winning the award can be seen here. The announcement was made this week at Heavy Duty Aftermarket Week in Las Vegas.