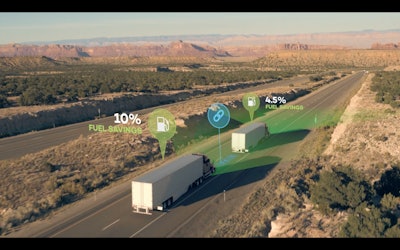 The ability to consume data is limitless, and Americans are swallowing it at record rates on the road.
Chevrolet says Bowtie owners in the U.S. used 4,220 terabytes of data last year through its AT&T enabled OnStar platform, an increase of nearly 200 percent over 2015.
That's more than 4.2 million gigabytes – almost 33,000 of the highest capacity iPad Pros – and this kind of connectivity isn't limited to families streaming Mickey Mouse Clubhouse to keep Junior quiet in the backseat.
Connected mobility is more secure and reliable than ever before and the efficiency and speed with which it can transfer data is making it a tool valuable for something other than crushing candy.
According to a report released by Frost & Sullivan last month, connected truck services are estimated to generate $5.41 billion in revenues this year. The biggest gainers are expected to be fleet management systems, digital freight brokering, autonomous trucks, Big Data and video safety systems.
If you have a truck built around 2010 or later, it's already online.
It's telling dispatch where it is and how fast it's going. It's sending engine diagnostic information to the maintenance department. The truck is a rolling blabbermouth spouting its vitals to whoever is tuned in to listen.
If the "Uberization of trucking" that you hear so much about ever actually happens, guess how that will take place. By 2020, Frost & Sullivan estimates that 35 million trucks will be connected globally. If you've ever called for an Uber ride, you use their app, which accesses your location and the location of your ride via GPS signal through your phone.
And all of this information will carve another sliver of from the millions of gigs flying around space thanks to the giant network of data capabilities.
Apple claims to sell about half a million iPhones every day. That's about 1.4 times more iPhones sold globally in one day than the number of humans being born daily.
According to Pew Research, 68 percent of all adults in the U.S. are carrying around some type of smartphone, and 45 percent own a tablet. According to Mobidata, the average American blows through almost 2 gigabytes of data every month (my daughter is above-average). That number jumps more than three times if you account for Wi-Fi usage.
Frost & Sullivan Test and Measurement Program Manager Olga Yashkova says more than 55 percent of all mobile data is expected to be offloaded to Wi-Fi Networks in 2017, and approximately 60 percent in 2018.
We've already seen smartphones and tablets feature heavily in the truck cab, and it's only going to become more commonplace. We're sending mountains of data in a million different directions everyday, with everything from driver logs to diagnostics and freight brokering routed through a personal device that offers a lot of flexibility versus a fixed-mount, company owned gadget.
Social and entertainment aside, weather and navigation apps, along with truck parking-related/trip planning apps, load boards and document management apps are smartphone/tablet must-haves of the modern trucker.
Frost & Sullivan, according to its report, is banking on an even healthier technology 'app'etite (see what I did there?), as more and more fleets migrate toward paperless paper trails.
The move away from paper-based reporting isn't exactly a new industrial trend, but the shift toward an on-highway business that's heavily supported by app-based wireless technology is certainly ongoing shift.
If Chevy owners alone managed to burn through 4,220 terabytes of data by simply turning their vehicles into a rolling WiFi hotspot, imagine the capacity more than 3.5 million professional truck drivers will need as they burn through data with ELDs, asset tracking, route planning, etc …
Apps are generally inexpensive and most drivers are already well versed in how to use the smartphones of their choosing.
When transportation's full connectivity potential is realized, I believe you'll find that the same device we all use to FaceTime with our families from the road has also communicated all pertinent data from the trip everywhere it needed to go. And all you had to do was make sure the battery was charged.