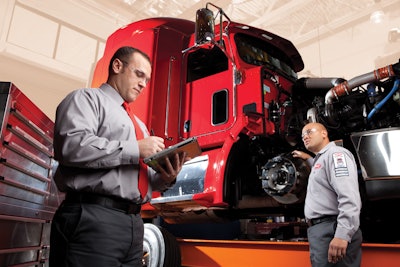 Rush Enterprises, as of this spring, will fully integrate its RushCare Service Connect communications platform will with Cummins and with Peterbilt SmartLINQ, the company announced at the Technology and Maintenance Council's annual meeting in Nashville, Tenn.
RushCare Service Connect is the company's communication and process management system that provides customers with an online on-demand, 360-degree view of the service process for vehicles in Rush Truck Centers' service departments.
Since launching RushCare Service Connect in 2016, Rush Enterprises Chairman, CEO and President Rusty Rush says the company has focused on enhancing its communication with customers and offering fully transparent repair information.
"This upcoming integration with Cummins and Peterbilt SmartLINQ will be a continuation of our efforts to improve customer uptime and give customers 24/7 access to the information they need about their vehicles," he says.
When a Cummins customer is in need of repair work at a Rush Truck Centers location, RushCare Service Connect will automatically provide information to Cummins, expediting and facilitating Cummins support and engagement when necessary. This will open communications with Cummins, the Rush Truck Centers service shop and the customer. The company says this integration allows all communication be captured and viewed in the Service Connect portal, so customers and service advisors alike can see the entire repair history associated with any vehicle in the system.
The integration with Cummins will also help provide valuable information to the manufacturer.
"When a Rush Truck Centers service advisor opens a repair order within RushCare Service Connect for a Cummins customer and the issue is engine or aftertreatment related, Cummins will be automatically notified so they can track the issue," says Brian Mulshine, Rush's director of operations technology and innovation.
Likewise, in 2017, Peterbilt will be expanding the SmartLINQ suite of connected technologies to include the new Service Management Platform. SmartLINQ Remote Diagnostics was introduced in 2015 to connect all Class 8 vehicles to the cloud to provide industry-leading notifications on the performance of our trucks. Now, SmartLINQ Service Management connects all Peterbilt dealers, providing an advanced customer communication and truck-down management system. SmartLINQ Service Management will also soon be integrated with RushCare Service Connect to provide seamless after-sales support for all Rush Truck Centers' customers, regardless of where their truck is being serviced.
RushCare Service Connect is already fully integrated with customers' own or third-party service event management systems, including Decisiv and Navistar OnCommand Repair Advocate.
"One of the most important aspects of RushCare Service Connect is that it can help organize our customers' communications in a single place," Mulshine says. "When our platform includes integration with Cummins, Peterbilt SmartLINQ as well as Decisiv and Navistar OnCommand Repair Advocate, customers can have a truly holistic view of their fleet in a single portal and importantly, be alerted to repair and maintenance needs and take action as needed," he added.
Another system enhancement to RushCare Service Connect allows customers to track annual inspection and license plate expiration dates. Customers can filter information by upcoming due dates, currently due or past due, so they can easily take action on necessary items. Additionally, customers can now add maintenance schedules for any of their vehicles in the system and instantly request a service appointment with a Rush Truck Centers location when necessary.
The service advisor in the selected Rush Truck Centers location will be notified of the service request in real time and will be alerted to any maintenance that is due or past due. For added convenience, customers can add service intervals to several vehicles at once by grouping vehicles by type, manufacturer, model or other factors.