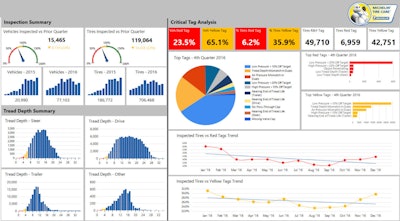 Michelin Americas Truck Tires is adding Radio Frequency Identification (RFID) technology to its commercial truck tires and retreads, which the company says will enable fleets to better manage their tire assets throughout the full life cycle.
Ralph Dimenna, Michelin Americas Truck Tires division COO, says Michelin is the first manufacturer to integrate RFID into its full commercial truck tire portfolio.
"Technology is transforming the trucking industry and Michelin is leading this effort to improve fleet performance and bottom line," he says.
Michelin is also upgrading its Michelin Tire Care tire maintenance program to include new features that provide fleets' with greater visibility, assurance and ease around the maintenance of their tires.
Michelin first introduced the Michelin Tire Care service in 2015 to proactively assist fleets in identifying and addressing tire issues that lead to downtime, low mileage, high fuel costs and safety risks. In the past year, Michelin says 20 percent of vehicles inspected in the Michelin Tire Care program comprised a Red Tag event, or critical issues that require immediate attention to avoid an ERS event or CSA violation, while 63 percent of vehicles inspected reported a Yellow Tag event, an issue that results in additional long term costs.